In our first update in 2020, we've improved the design and flow of dealing with incoming track changes and related export options.
Accept Incoming Deletions/Strikethroughs
One of the limitations of Word or Google Docs is that an external party's deletions can be accepted in a document without sufficient audit trail. As a result, the previous version of DocJuris did not have a "accept" option for incoming changes.
In DocJuris, incoming strike throughs from a comparison or counter party markup can be accepted, but DocJuris will keep the language muted as a reminder prior to exporting to Word. This is helpful if you need to add a NTD or come back to it after a long weekend, and improves the consistency of accepting and rejecting changes.

Note, the default export option automatically accepts incoming edits unless rejected. You can optionally work through the contract without having to accept/reject changes. DocJuris takes care of this under "My Edits Only." In documents with heavy markups, accepting every change could be a time waste.

.
Skip Comparison
When a turn is added to a contract workspace (via the "..." overflow menu under view all contracts or "Upload a New Turn" while in a contract), DocJuris runs a comparison by default. In DocJuris, you can skip the comparison in case there's a desire to retain open markups in the document for later discussion.

Note, use this option in conjunction with the "All Edits" feature of the export pop-up on the way out to keep the markup consistent through each multi-turn negotiation.
Custom Export Message
A custom export message can be added to the contract export window to recap any processes or policies unique to the organization. This is helpful if you have an API integration or procedures that users should understand during the download process.
To edit the export message, click here or visit https://app.docjuris.com/settings/organization. The export message will then appear above the 3 main export options.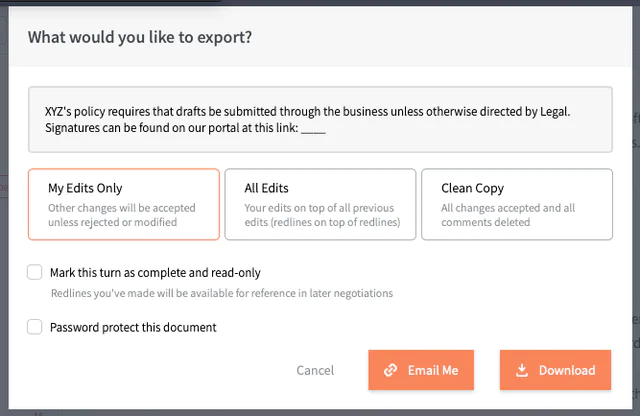 Other Improvements
X icon to delete comments made live during a review (i.e., this undos the comment)
Outline style improvements
PDF to Word comparison optimizations
Spellcheck improvements when incoming markup is detected
Passwords can be reset after a lockout