Today, we released an upgrade to DocJuris that launches our #1 feature request. When DocJuris analyzes new contracts against user defined playbooks and relevant past redlines, two documents can now be compared up front to generate a first and second "turn" automatically. This time and risk saving feature also works on signed PDFs against Word docs or vice versa.
Comparison Up Front
When starting a contract review, comparing against an interim draft or previous agreement (e.g., comparing a Counterparty's edits against a previously assembled draft of a Standard Form) is a useful starting point drafting.
In DocJuris, users can (1) Upload a contract that needs Analysis and (2) compare it against another version right inside the "Analyze a Contract" window.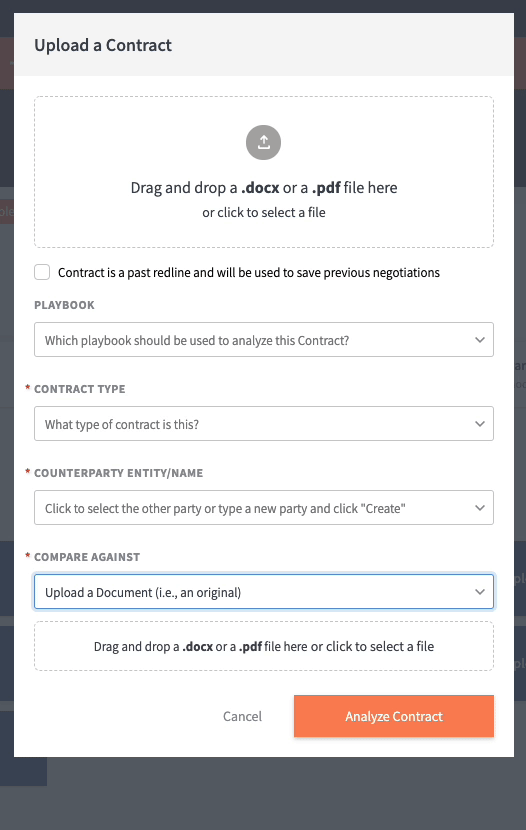 Reorder Counterparty Positions in Playbook
Setting a distinct order on positions in your playbook can be useful for prioritizing and ordering based on a negotiation (e.g., 1st and 2nd fallback).

In DocJuris, when modifying an issue in the playbook editor, counterparty positions can be organized and ordered in more useful ways.

Other Editor Improvements
Enhanced outline style and numbering compatibility;

Better comparison output with tables;

Faster counterparty switching when filtering past redlines;

Clearer option to rename contract filenames on upload;

Improved spelling suggestion actions;

Unedited contracts containing incoming markups can be exported with "All Edits" option;

Improved playbook assistant documents including right click copy and paste.