Toggling Track Changes
As contract negotiations evolve with input and edits, DocJuris will automatically Track Changes through the Analyze a Contract function. If a User would rather focus on internal, external, or their own review, Toggling Track Changes simplifies which portions are shown.
How to Enable Track Changes
Within the Contract Editor:
Click on the icon that looks like a gear.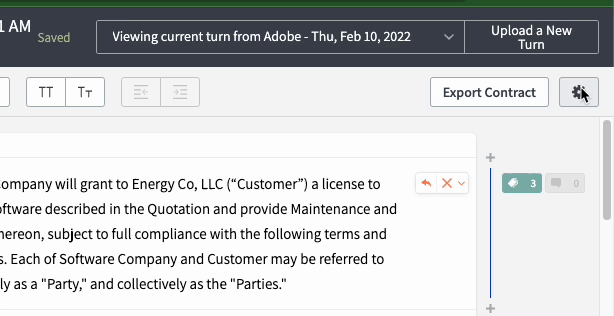 From the this menu, click the appropriate Track Changes.
It is important to note that if Track Changes is toggled to "off", markups are maintained. The contract appearing in the Contract Editor is only a view to allow for easier edits while the document integrity is maintained. If Track Changes is toggled off and there has been a clause inserted, the application will "warn" the User by presenting the clause or insertion.
Video Overview