Real-time Playbook Editing
When working on a contract review (after clicking "Analyze a Contract"), you may have thoughts on improving playbooks as they come up — especially if there's a new provision or an update to an existing one that is learned in real-time. There are also many scenarios where you're getting started with a playbook and need to update it as work or testing is evolving.
If a playbook is used during a contract analysis, users can update the applied playbook in real-time by clicking the 📝 icon after expanding an issue. However, for a full playbook editing experience, access the applicable playbook on the dashboard from the home screen.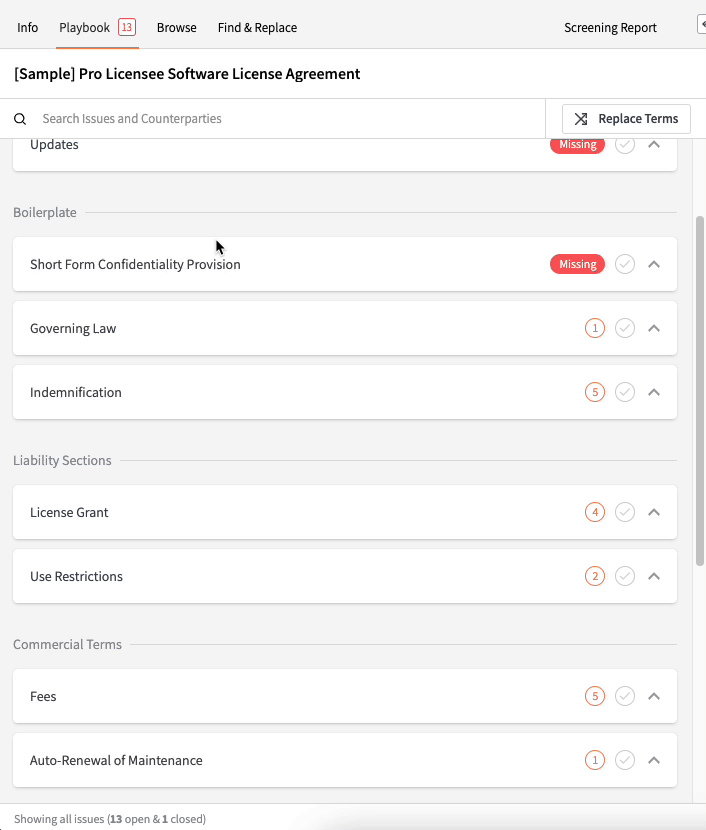 Section Deletion and Select Multiple Sections
When analyzing/editing a contract, clicking the x icon to the right of a section will mark a section as "intentionally omitted" to preserve section references and survivability clauses. However, in some cases, one or more sections may need to be actually deleted vs being marked "intentionally omitted."
Clicking the down arrow next to the x icon will provide an action to delete a section. Further, multiple sections can be selected and deleted in bulk using the checkbox to the left of each section. These actions can be undone by clicking the undo icon to the right of a deleted section.

Other Improvements
"Analyze a Contract" trigger in Zapier allows user to select playbook and pull the Excel screening report in an automated workflow;
Portuguese (Brasil) compatibility;
Contract formatting improvements;
Faster page transitions;
Clearer language around contract sections vs. provisions.