As DocJuris continues to grow, our features become more customized and have greater utility. The Comments and Mentions allowed within the application have expanded significantly. If you are already familiar with the feature, skip to the Video Overview.
Elegantly separate your Internal comments during drafting and review with the all-new Commenting Pane. In DocJuris, your team can internally discuss provisions without worrying about manually scrubbing comments before sending the contract to the other side.
Commenting in DocJuris Overview
Comments in DocJuris are anchored to specific clauses or phrases, scale with your document needs, and can be applied to a full Section or just to a few words for surgical level precision. Internal, External, or a mix of both are possible within the platform. With DocJuris an External Comment can have a fully Internal discussion. Unlike working in a Word Processing application, DocJuris also has a unique feature to help navigate the Comments within the Document through our Comment Pane. For document fidelity, Internal Comments are never exported to the Counterparty unless designated. Although the Internal Comments are still present within the document of DocJuris, an Exported "clean copy" will have automatically deleted these without requiring manual removal.
New Commenting Pane Feature
DocJuris now has a Commenting Pane separate from the Contract Editor that lists all Comments with an appropriate color by type for fast, easy, and accurate navigation. Internal Comments are highlighted by a Turquoise bar, while External Comments are highlighted by a Red bar.
The Commenting Pane is NOT anchored to the document. What this means is that Users can review or modify Comments while referencing other language within the Document simultaneously.
Our new Comment Pane has "Auto-Scrolling" as a default setting. By hovering over a Section in the Document, all attributed Comments will appear in the Commenting Pane.
Auto-Scrolling can be turned off, but it is recommended.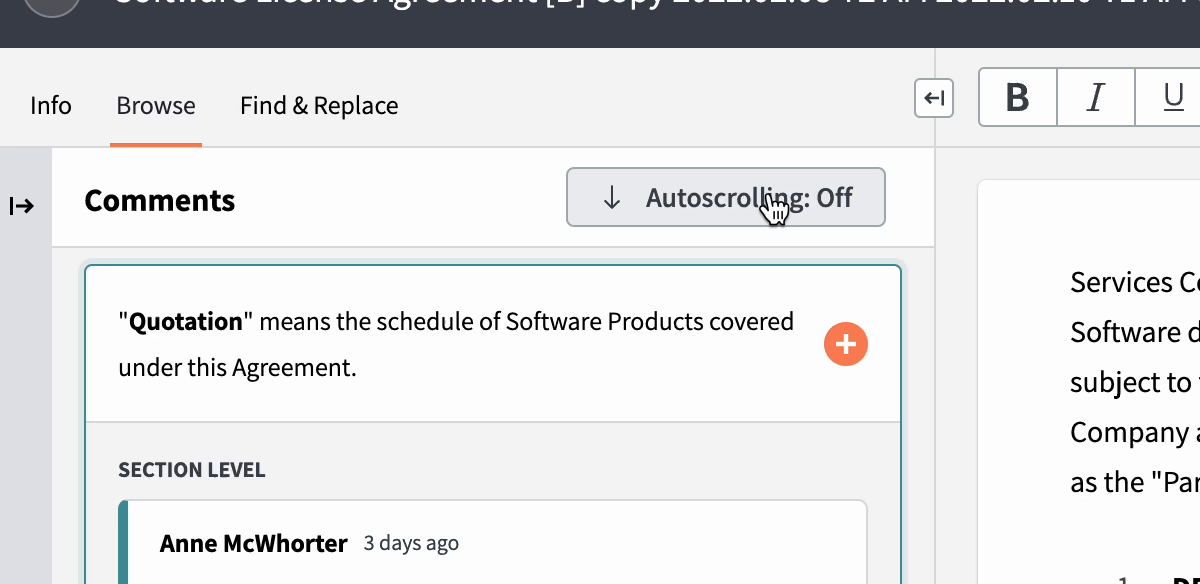 Types of Comments
Inline Comments:
Inline Comments apply and are anchored to specific clauses or phrases upon Export. Using Inline Comments is similar to how they are used in Microsoft Word. Sections are highlighted and are programmatically associated with those specific words or clauses (anchored).
Internal and Mentions
As a continuation of these improvements, DocJuris enables Internal Commenting with @mentions. You can use @mention in an internal comment to deliver a simple email to another team member.

The link in the email will open the contract in DocJuris and send your team directly to the comment, all in one click.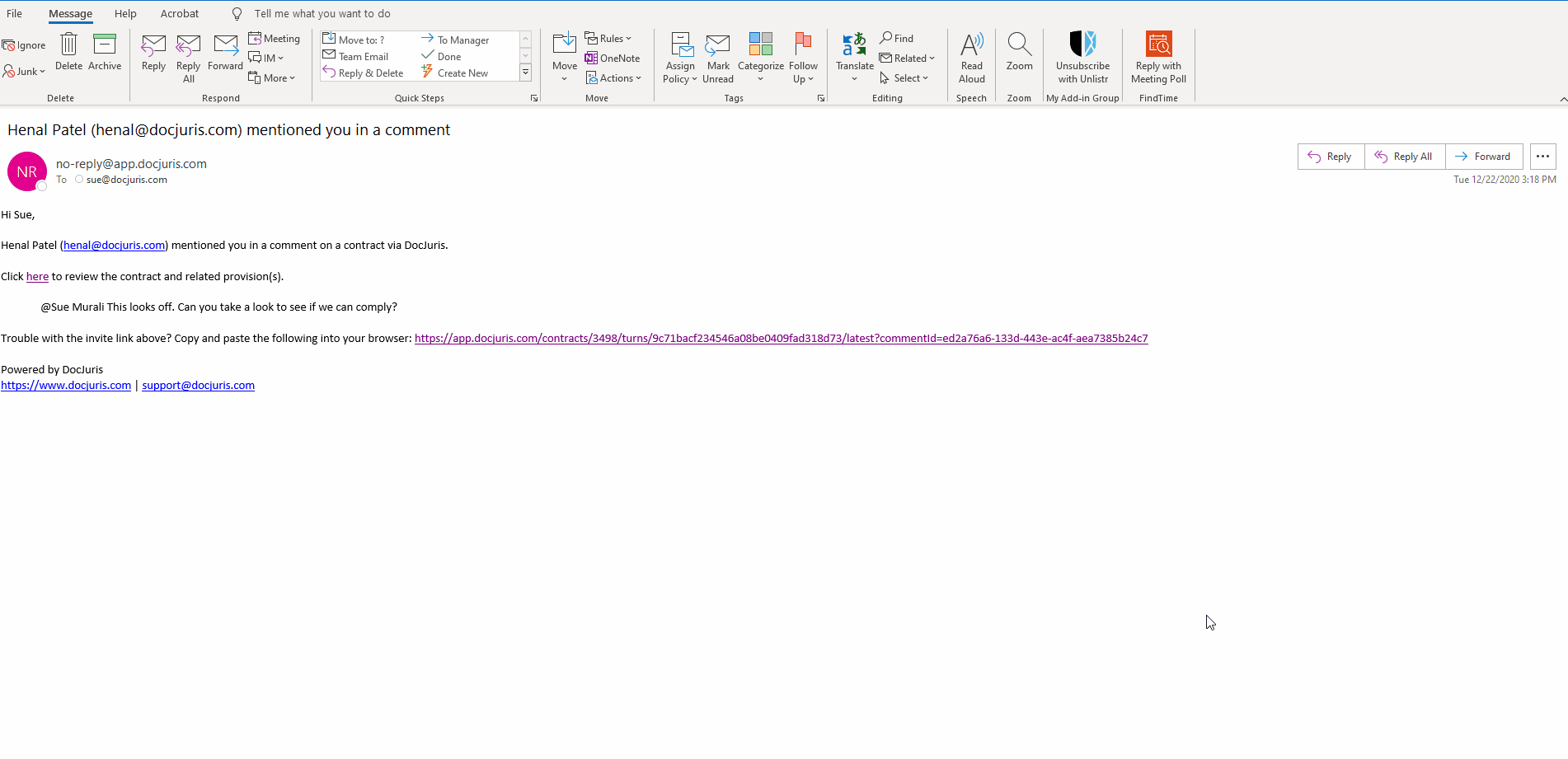 From there, teams can comment further and markup the contract alongside Playbooks and Previous Redlines . Once complete, you can export to Word and the Counterparty will only see external discussions and the edits made in track-changes.
External Comments
External Comments are between the User and Counterparty. Exporting the document will retain these comments for document fidelity.
DocJuris allows for a unique application where External or Internal Comments can be nested. An External Comment can lead to completely private Internal discussions. Conversely, an Internal discussion can then have an External Comment if it is warranted.
Despite how reviews are organized, the Internal Comments will remain confidential and never be accidentally leaked to the Counterparty.
Steps for Commenting
To Begin a Comment Thread
Hover over the appropriate Section or Paragraph within a Contract.
Click on the Comment Icon.
Designate whether the Comment will be External or Internal.

To Delete, Edit, or Undo a Comment
Within the Comment Pane, select the appropriate Comment.
From here, select the Undo, Edit, or Delete options.

Use Cases
Use Case 1
A Contract Needs a specific clause or language approved by another department, such as Finance. The clause is added as an External Negotiation Commentary by the Counterparty.
Language can be highlighted, then the appropriate person can be notified through using @Mentions.
A lengthy conversation occurs internally for approval outlined in the clause terms.
When the appropriate action is chosen, and the Internal conversations are finished, the Counterparty can be notified within the same thread.
Upon Export, the Internal Comment discussion is deleted on "clean copy", but is retained for document fidelity within DocJuris.
Automation Use Case 2
Under the DocJuris Enterprise subscriptions, Automations are possible to allow for more efficient workflows.
An Automation can be customized to alert team members via email, text, phone, etc OR to create a Project or Task Management Card.
Video Overview
The DocJuris API is coded for extensive automation customization. Contact our team to learn how we can help make your workflows more efficient!