Today, we're excited to announce a new, adaptive contract playbook model designed to make contract playbooks easier to apply, manage, and update
Refreshed Approach to Playbooks
We've remodeled our contract playbook model to be dynamic and real-time, allowing you to add multiple playbooks to a contract at any point in your workflow.

Now, playbooks can be flexibly designed to address a specific set of issues, and those issues can then be mixed and matched during a contract analysis.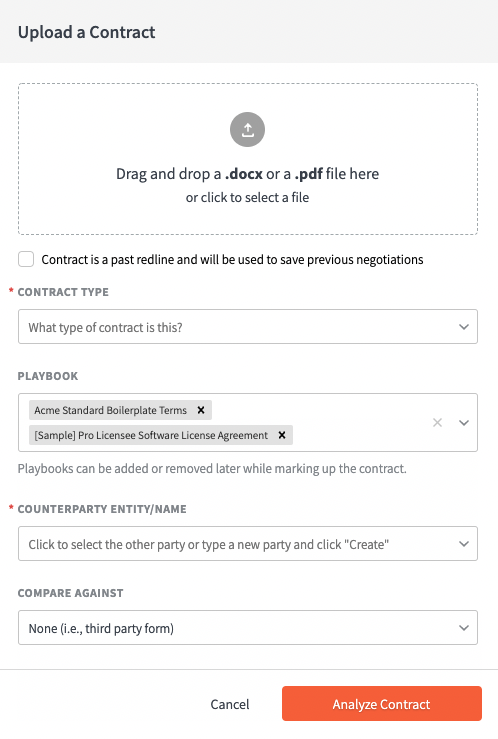 In other words, even if you're analyzing a contract live in our cloud editor, your team can flexible mix-and-match playbooks to fit a particular contracting scenario.
Apply multiple playbooks
Pivot in real-time
Bring in business teams that operate on their own playbooks
Create a living/breathing checklist that works for you, not against
Iterate on playbooks without having to repeat your update across several templates
Use Cases
In exploring how to implement adaptive playbooks, we identified several use cases that could benefit your organization. For example:
You have a vendor MSA template that is layered with options
In this scenario, when redlines come back, you can flexibly pick scenarios that are relevant to the transaction. If a vendor is providing offshore consulting, apply your high-risk consulting playbook and elevated IP considerations.
You have multiple business lines and entities that share an 80% baseline playbook, but the warranties and remedies for breach vary
In this case, you can design a base playbook covering the 80% and combine the playbook with several business line focused playbooks that can loaded on demand. While negotiating a deal, flexibly adapt your negotiation with the introduction of those specific playbooks pertinent to the transaction in real-time.
You have several dozen contract types that you negotiate, and it would make more sense to create a general playbook covering governing law, limitation of liability, and other core boilerplate issues
In some cases, you have one-off considerations such as intellectual property, data protection addendums, or privacy considerations. With adaptive playbooks, always pick your baseline to start and use these other modules when and as needed.
With adaptive playbooks, the possibilities are endless.
Other Key Updates
In addition to reformulating how playbooks are applied to contracts, DocJuris is introducing a new templates area designed to store templates for contracts, amendments, and exception tables.
Combined with our new adaptive playbook model, templates introduce a versatile approach to comparing drafts, apply playbooks, and getting deals out the door.