Today, we're excited to announce a refreshed "Upload a Contract" menu designed to make analyzing your contracts more straightforward.
Refreshed Contract Upload Menu
We've remodeled our Upload a Contract menu to allow you to streamline your contract workflow right from the start. (NOTE: Playbooks can be added once the contract is uploaded into the Analyzer.)
In the DocJuris Dashboard, click the Analyze a Contract button to open the menu.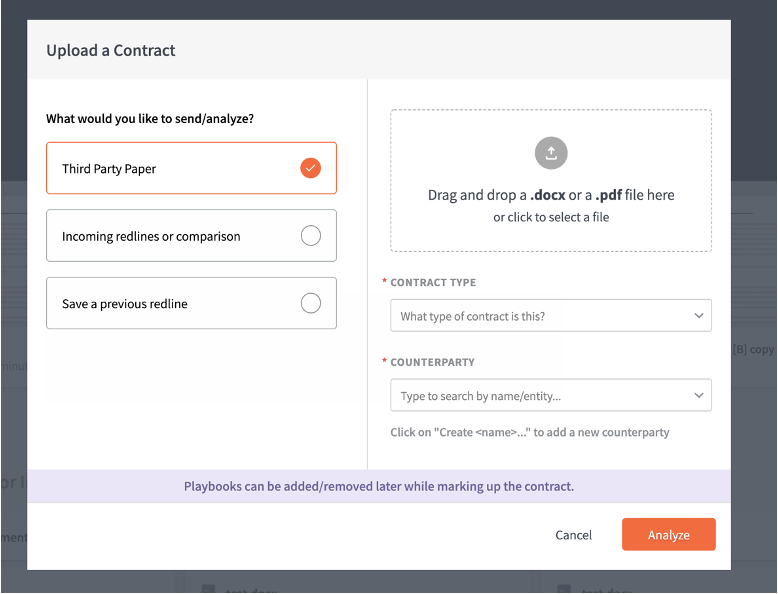 Now, you can select what kind of contract you'd like to send or analyze.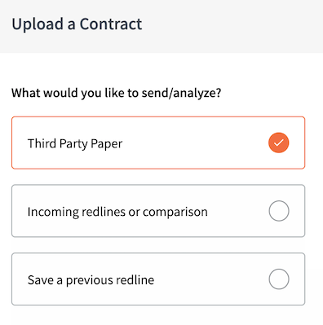 Third Party Paper
Choose Third Party Paper to upload the counterparty's base contract or standard form to review in DocJuris.
This is the counterparty's base contract with their preferred provisions.
Incoming redlines or comparison
Choose Incoming redlines or comparison to perform either of the following:
Incoming redlines: Review an additional turn or revision from the counterparty on your company's standard template contract.
Comparison: Run a comparison against an interim draft on your company's standard template contract.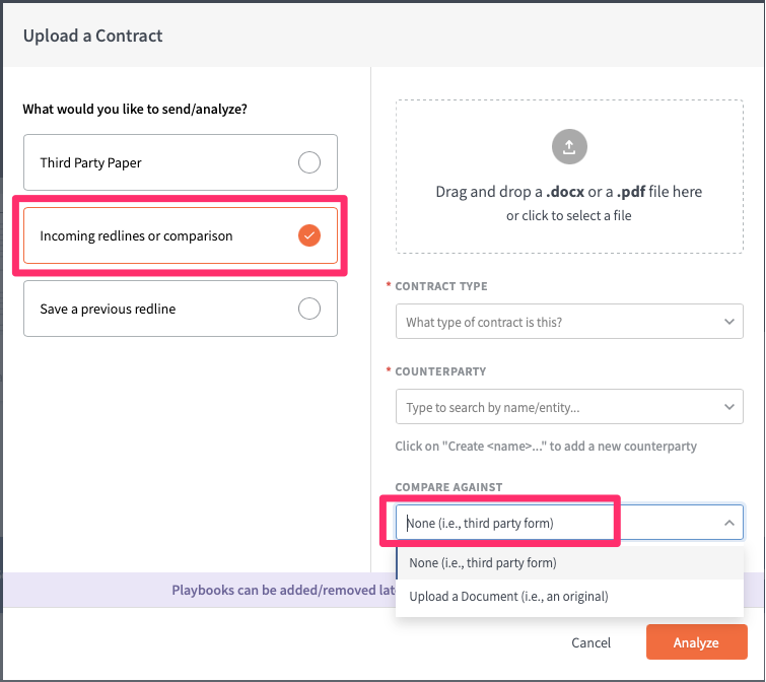 Under the COMPARE AGAINST dropdown menu, you can select one of three options:
None (i.e., third party form): Skip comparison. Review incoming redlines from the counterparty on your company's standard template contract.
Upload a Document (i.e., an original): Run a comparison against an interim draft or original document.
Contract Template: Run a comparison against your company's standard template contract. (Note: This option appears if you've uploaded templates into the Templates section of your Dashboard.)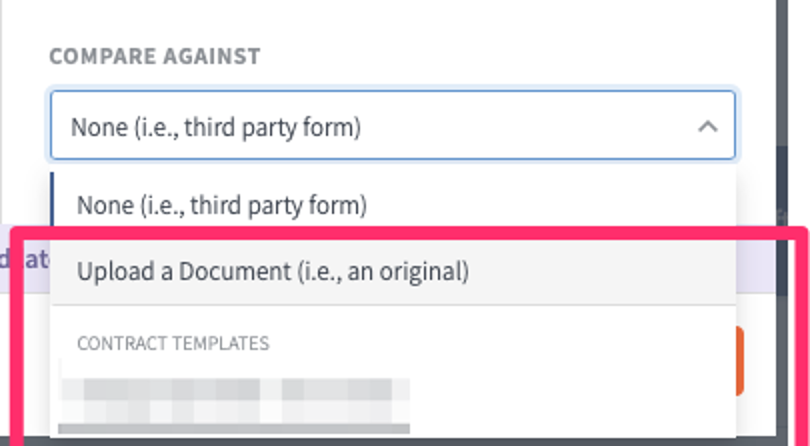 Save a previous redline
Select Save a previous redline to add to your collection of historical redlines.
Choose this option to:
Upload an example of your first-pass redlines on a third party paper;
OR
Upload an example of incoming redlines on your company's standard contract.
For more information on using previous redlines, click here.
Other Key Updates
In addition to reorganizing how contracts are uploaded, DocJuris is introducing some other new features in this release update.
Faster Contract Uploads
Contracts now upload 5-10 times faster!
UK English Localization
UK English (United Kingdom) localization has been added, including proper date formatting.
You can access your Localization options by clicking your initials in the top right of the Dashboard to view your Profile. On the Profile tab, click the Locale field and select your preferred language locale from the dropdown menu.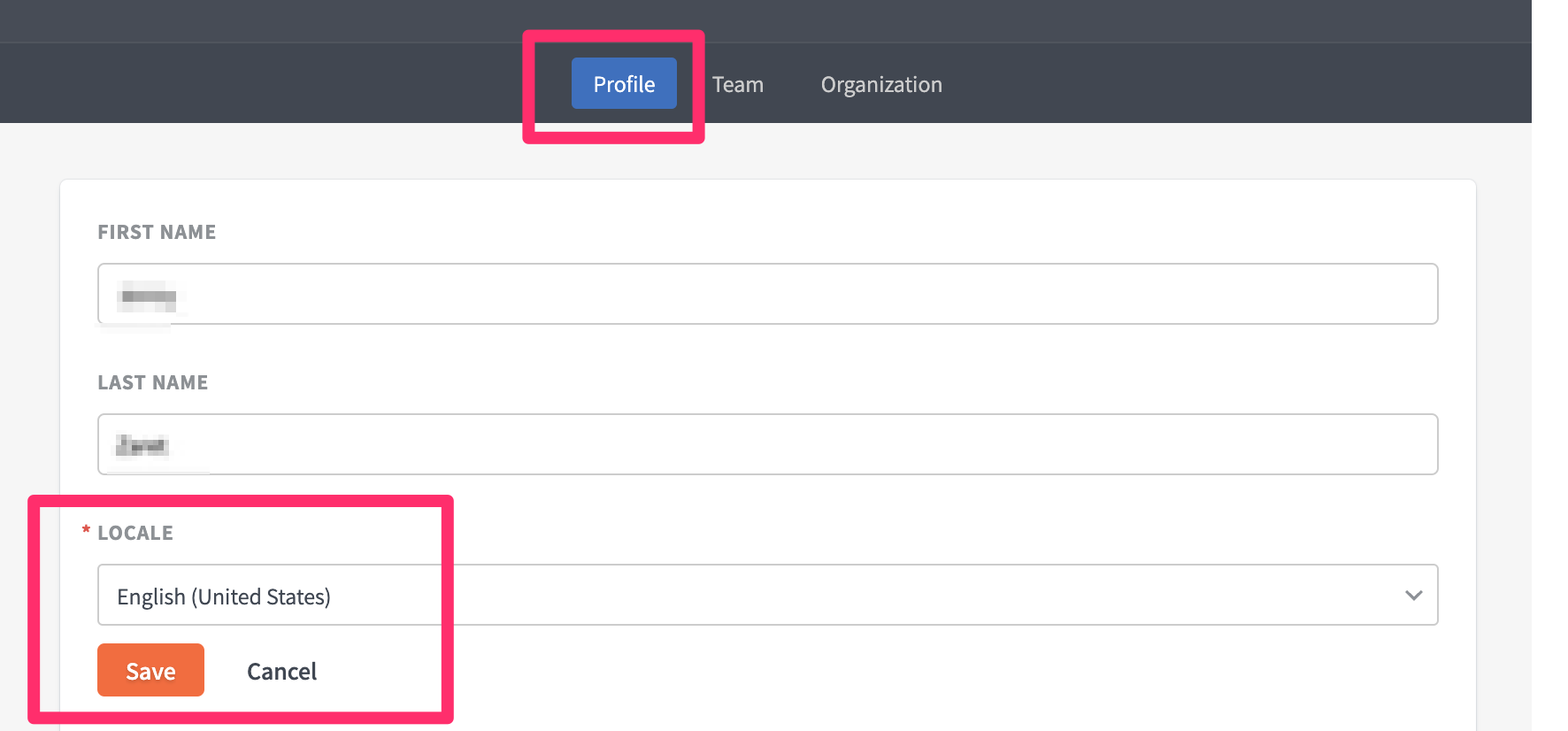 Pro-Users only: Your selected language locale also applies to your amendment exports (available by clicking the Export Contract button in the Analyzer and then selecting Amendment). As of this update, choosing Portuguese as your language locale will also export your amendments in that language.
(NOTE: additional language locales are available upon request. Please reach out to DocJuris Support for more details.)
User Track Changes
By popular request, DocJuris will now display who on your team made a particular redline, and when they did it.
To view changes by an individual User, open an active contract in the Contract Analyzer. Highlight the redlined text and right-click. The user's name will be displayed underneath the Tracked insert heading.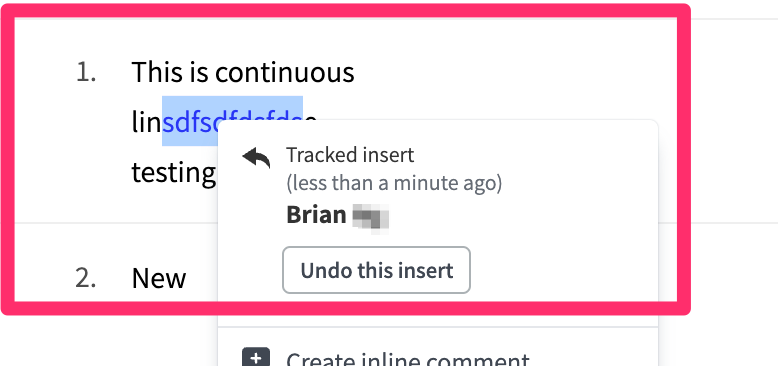 Indented Paragraphs
From the same right-click menu, you can also view and manage how a paragraph is indented in a section.
Previously, if a section in a contract has a hanging paragraph that's tabbed over in MS Word, DocJuris would place that paragraph un-indented.
Now, you can press Shift+Enter to create a new indented paragraph.
You can then right-click to switch back to an outline item or add new indented paragraphs.