Today, we released an upgrade to DocJuris that launches several major improvements. In this latest release, we streamline the contract review process even further, with a new Export Pane, Markup Conversion, and Upload a New Turn Menu.
New Export Pane
The Export menu now opens as a pane on the right of the Contract Analyzer. Now you can continue working on your contract with the Export menu open.

Click the Export button in the Analyzer to view customizable export options for the contract.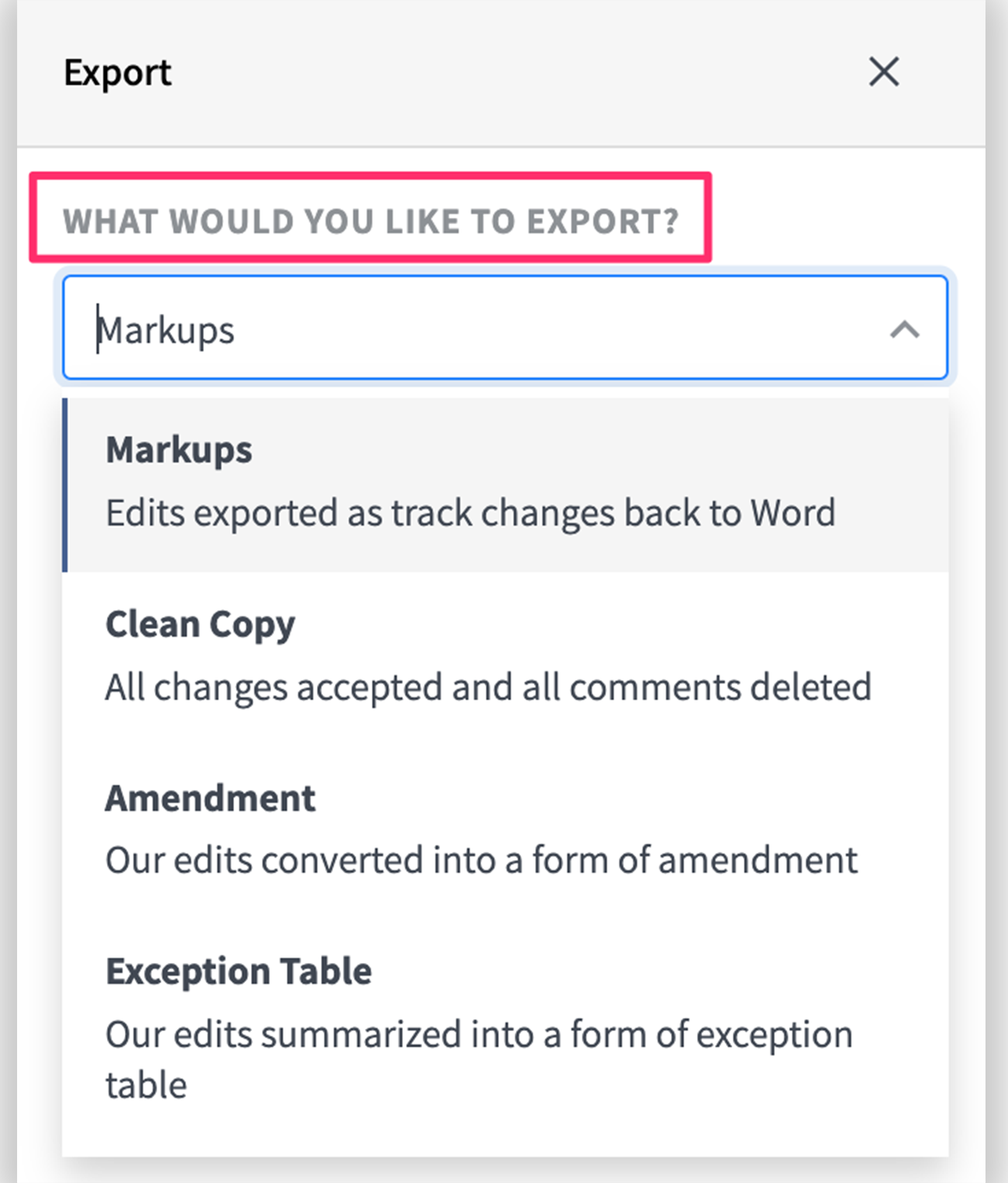 From the drop-down menu under What would you like to export? you can select one of the Main Export Options: Markups, Clean Copy, Amendment, or Exception Table.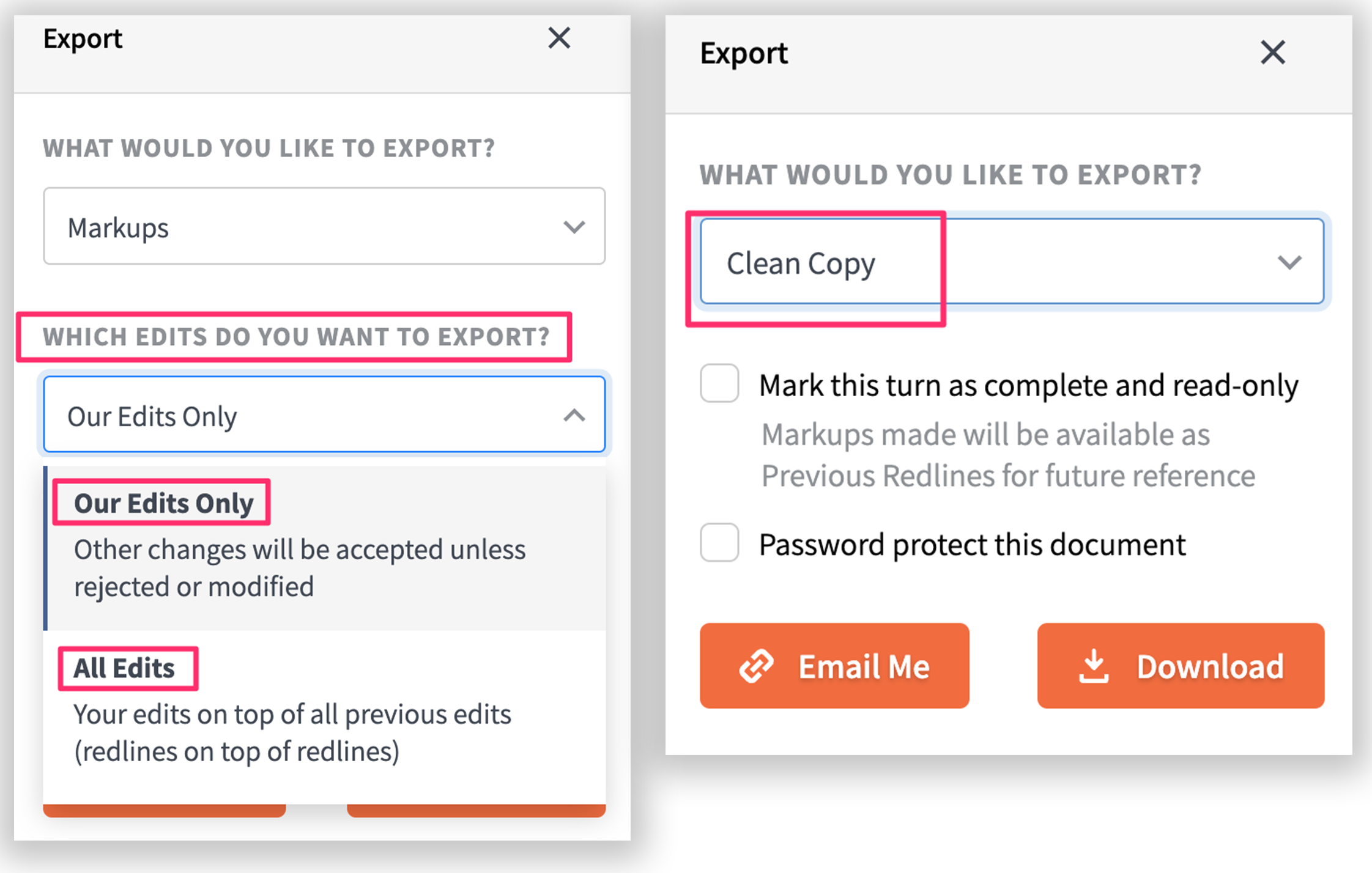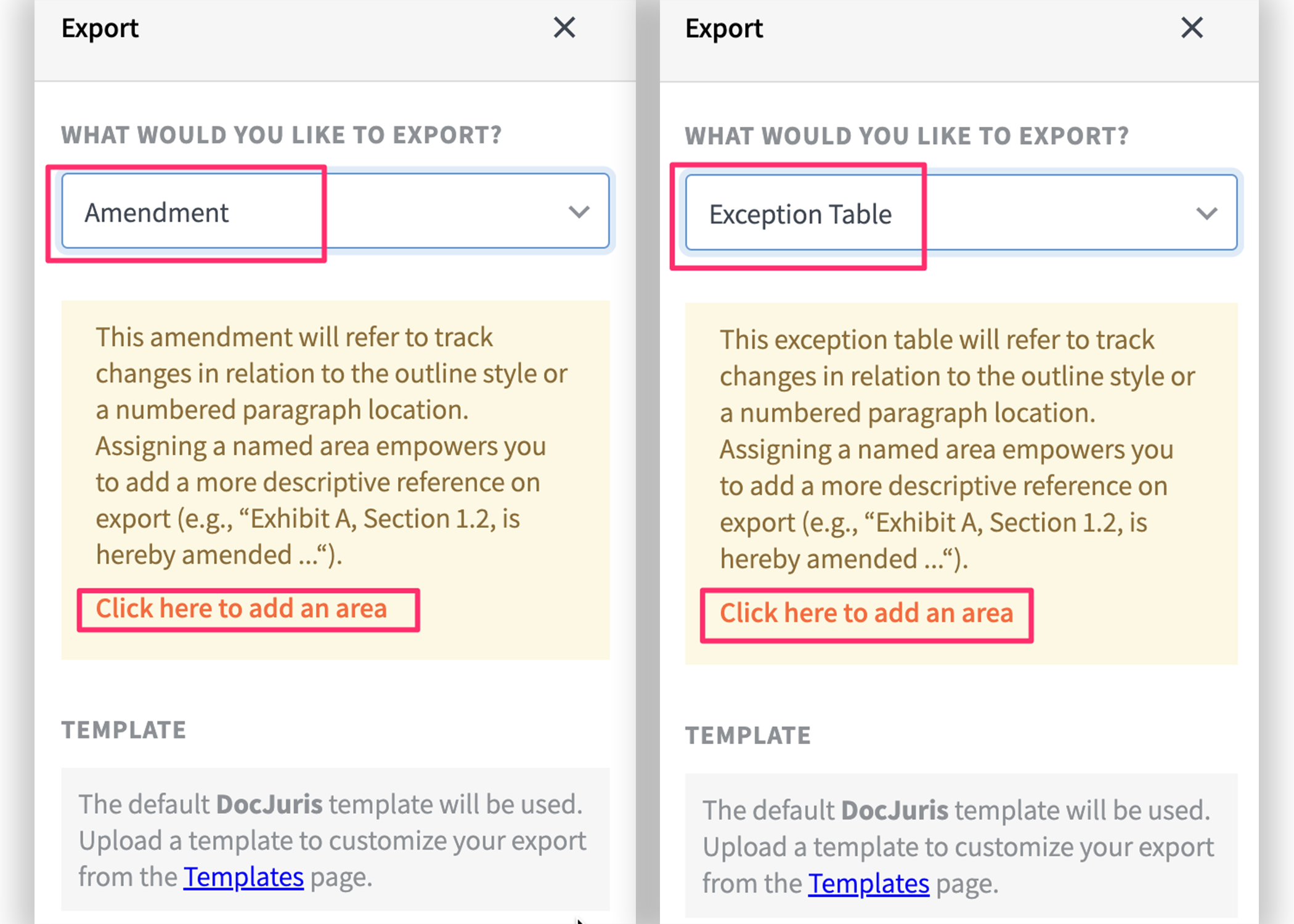 After selecting a Main Export Option, choose from Which Edits Do You Want to Export: Our Edits Only or All Edits.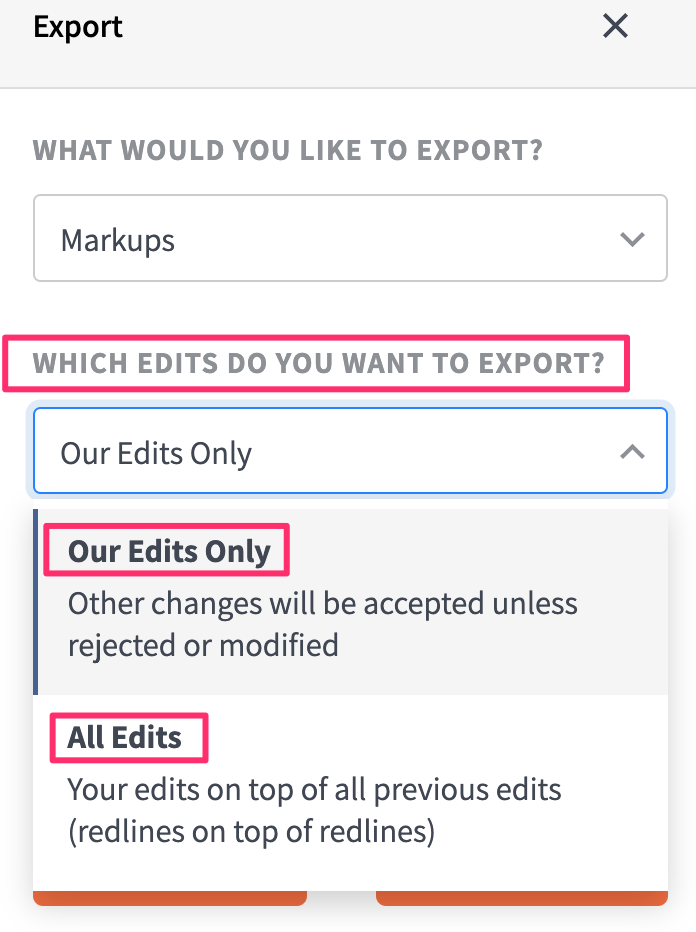 You can also click the checkboxes to choose the two standard options:
"Mark this turn as complete and read-only"
"Password protect this document"

You can learn more about the Main Export Options in our expanded article on Exporting Contracts.
Markup Conversion
Our biggest update in this release includes the markup conversion in the Upload a Contract Menu. From the Dashboard, select Analyze a Contract to open the Upload a Contract Menu.
When analyzing either a Third Party Paper or Incoming redlines or comparison, you can now select an Advanced option: Continue any detected track changes/redlines as your edits.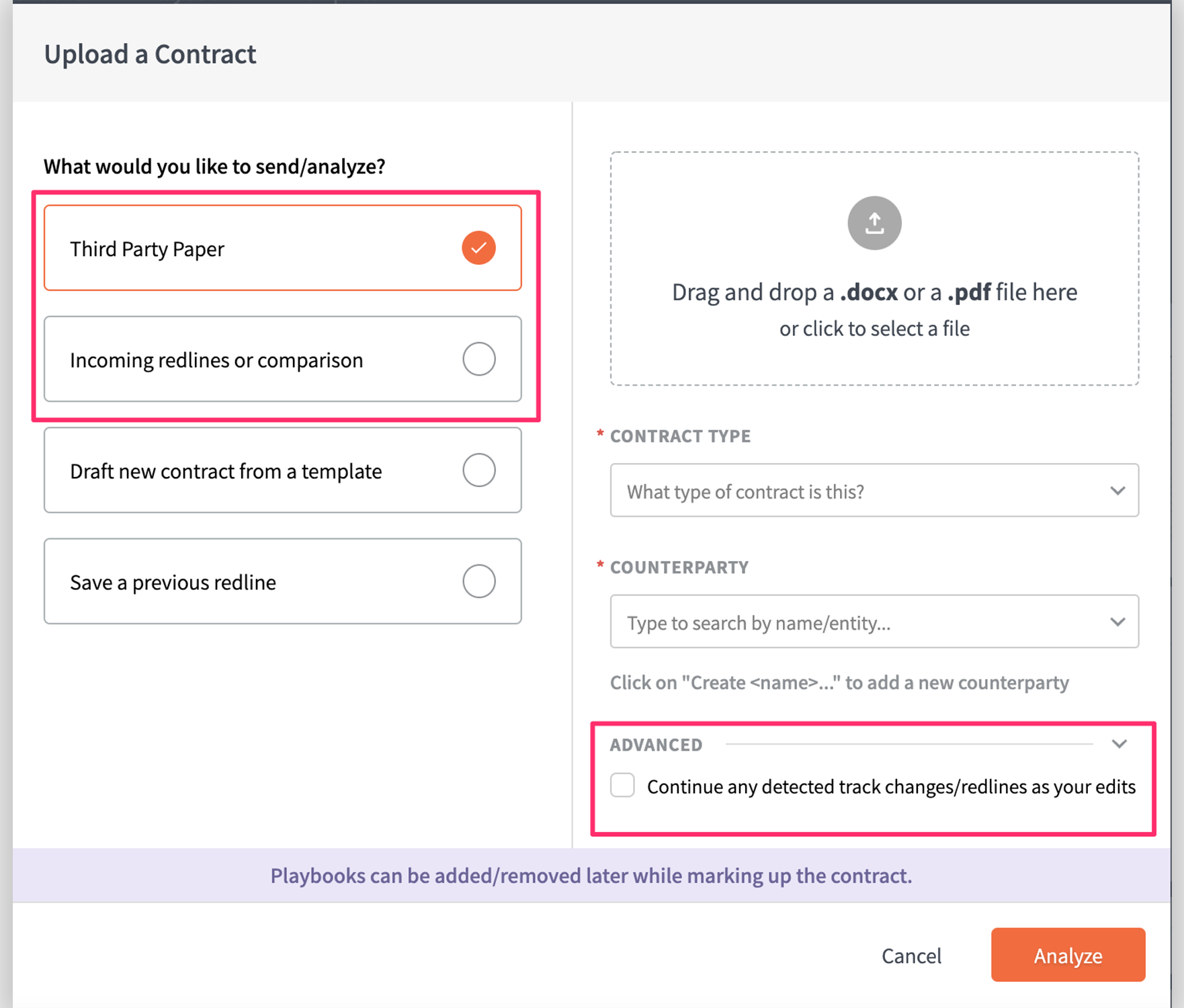 Now, if you've already added changes or redlines to an existing contract, such as in Word or another word processor, you can continue that review process directly within DocJuris by choosing this option. The markup changes you've made in your document will be converted to DocJuris changes. By choosing this option when analyzing a contract, you can continue to make your own changes, or that of a team member or other stakeholder, within the Contract Analyzer of DocJuris.
With this markup conversion, you can now easily convert existing markups on a contract right in your DocJuris account. For example, if a client sends over a contract draft, you can upload that contract draft with existing changes, continue those track changes/redlines markup within the Analyzer, export different Turns of the same contract, and collaborate with team members.
You can also export the contract containing existing changes, for example as an Exception Table, and that export file will contain all of the edits that were drafted.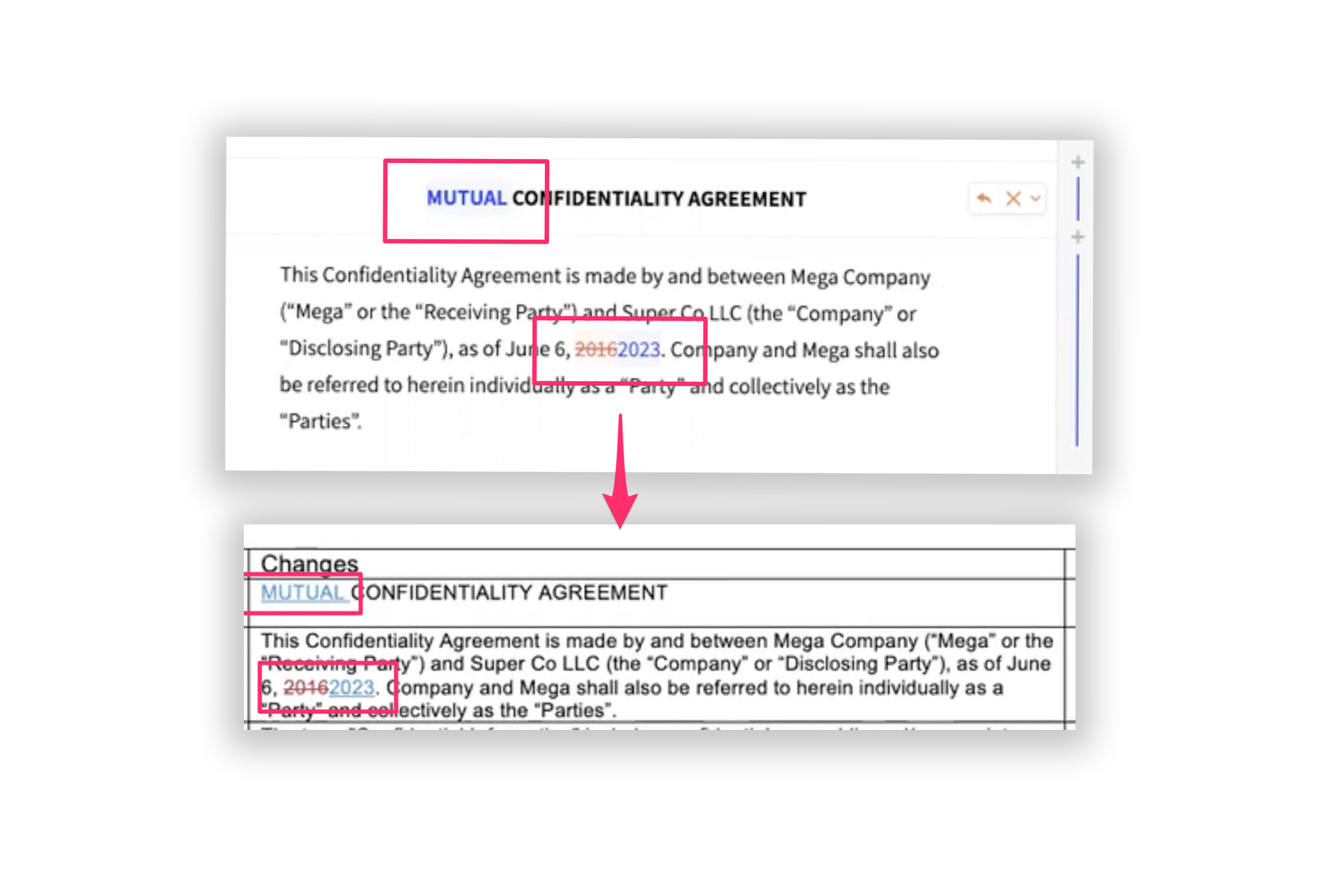 Draft New Contract From a Template
In addition, we've also added a new option to the Upload a Contract Menu: Draft new contract from a template. Now, when you Analyze a Contract, you can draft a brand-new contract from one of your existing Templates located in the Templates tab of the Dashboard.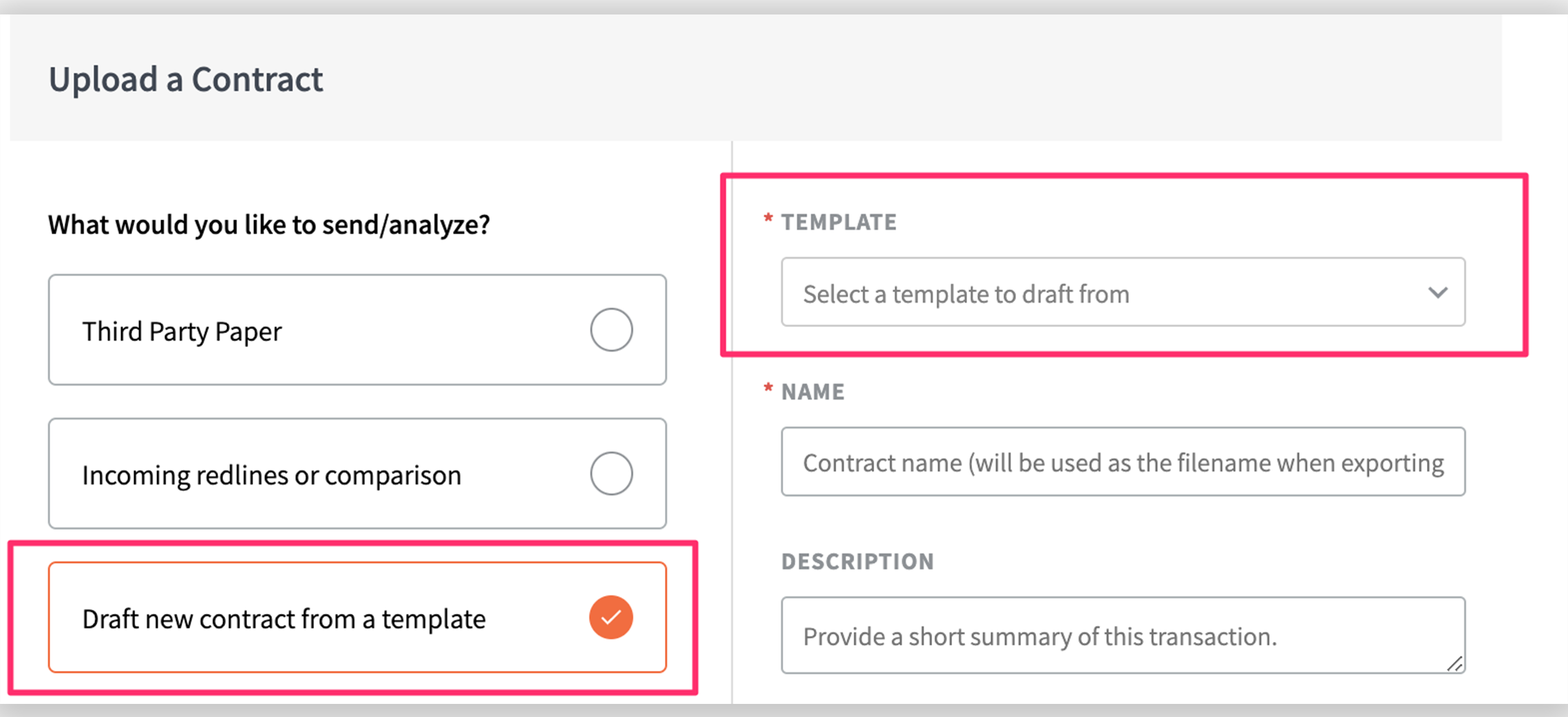 Note: you can also draft a contract from a template by clicking the Draft a Contract button to the right of any template listed in the Templates page.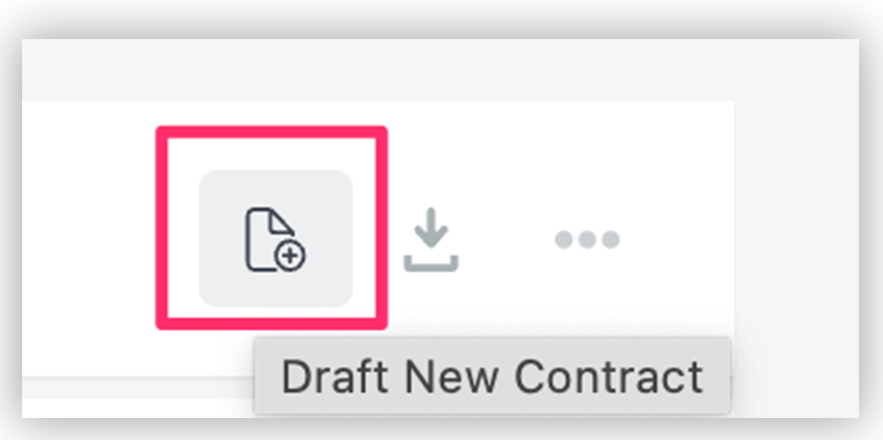 Upload a New Turn Menu
Finally, we've added the Upload a New Turn Menu to the Contract Analyzer. You can use this feature to upload and analyze multiple turns of the same contract.

Select the Upload a New Turn button above the Contract Editor to open the menu.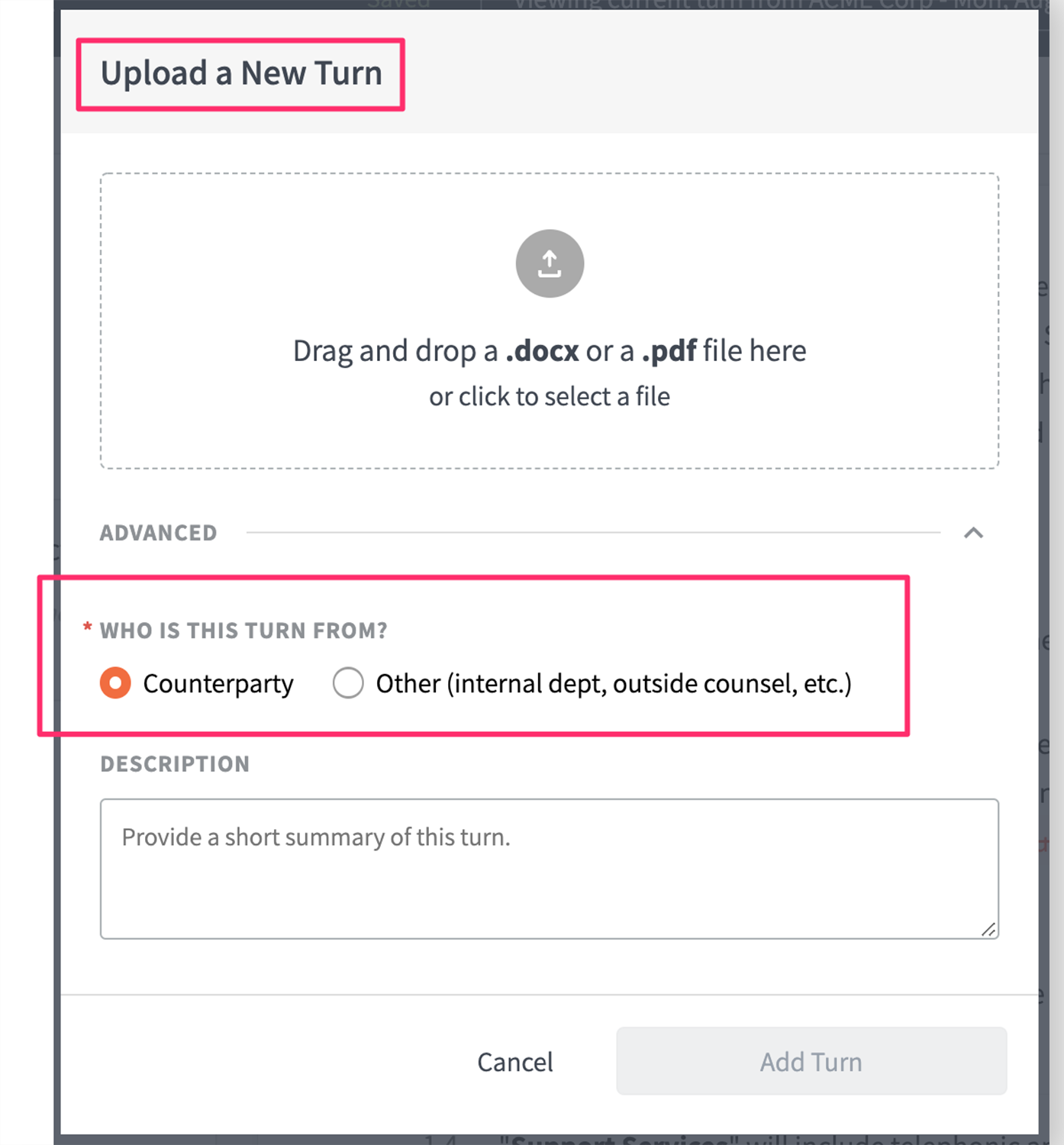 In order to upload a new turn, drag and drop a contract file to the Upload box.
Next, you'll want to select an option from Who Is This Turn From? There are two options:
Counterparty
Other (internal dept, outside counsel, etc.)

Choose the option that works best for your current point in the review process.
Next, you can choose an Advanced option from the Advanced drop-down. By default, these advanced options are hidden. Click the arrow on the right to view the Advanced Option toggles.

Both Advanced options have different functions for the new turn being uploaded. These toggles allow you to combine contract drafts in DocJuris in order to save time. A brief explanation is below.

Skip comparison with the current turn:
Loads the next turn without comparing it against the current turn. For example, if the next turn is a completely different document with a different set of track changes, DocJuris will load it without considering what's in the current turn before it.
Here's why you might use it:
I want to upload an updated doc that went through a lot of iteration, and running a comparison is not necessary.
I trust the drafter and want to see the updated markups from their Word docx. Maybe we had a call and went through it - so I don't need to show the differences from the last draft since we walked through it all together separately.
I need to work off a new draft and discard the previous turn (many reasons why this might occur)
In summary, by skipping, you're not checking to see what's different between the last turn and the one being uploaded.
Note: When Skip comparison is selected, you can choose either Counterparty or Other under Who Is This Turn From? This is so you can receive and work on contract edits from your own team, department, or organization, in addition to working on edits from a Counterparty.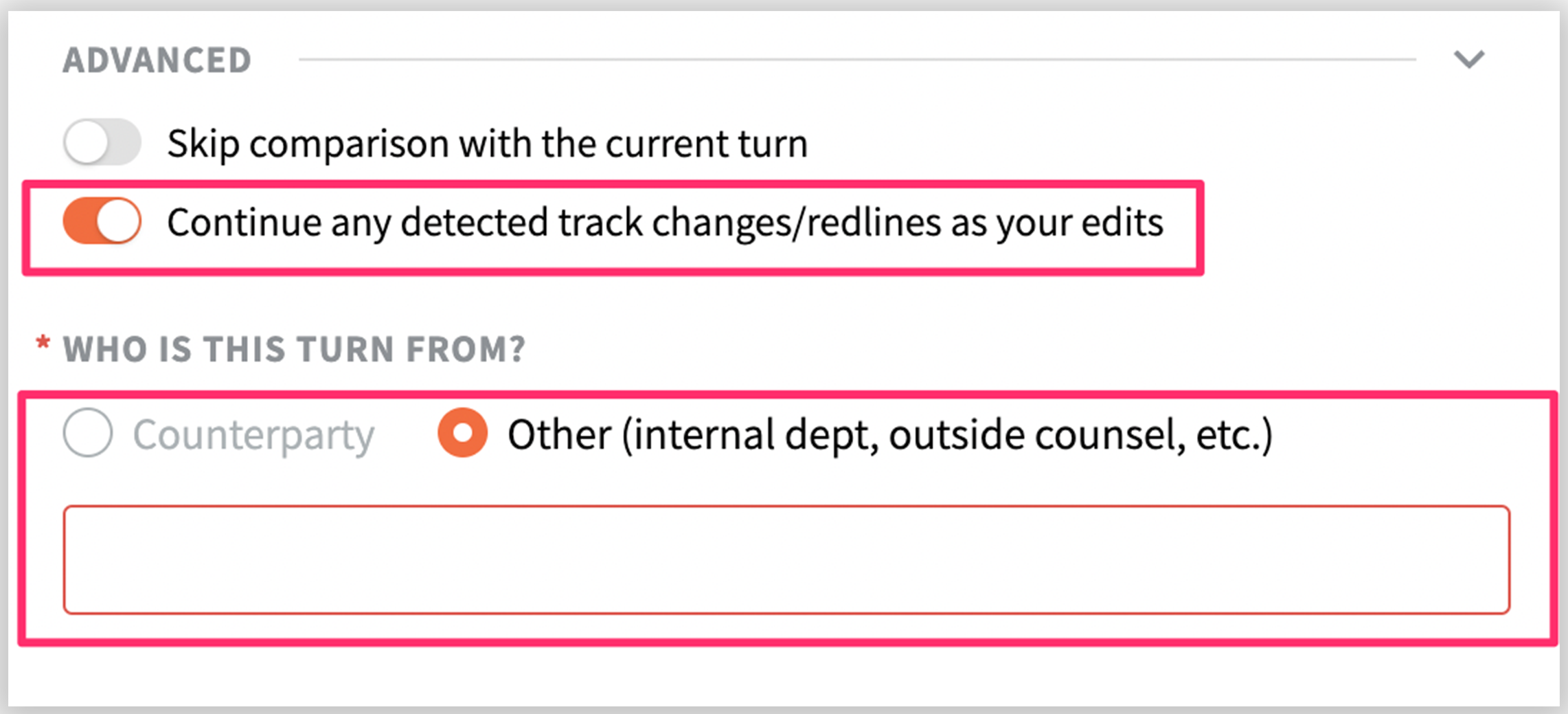 Continue any detected track changes/redlines as your edits:
Takes any track changes or redlines from the doc being uploaded and treats them as your edits for purposes of continuing your draft. If you decide not to skip the comparison, the app will also show any hidden changes or differences from the previous turn or original as your edits as well.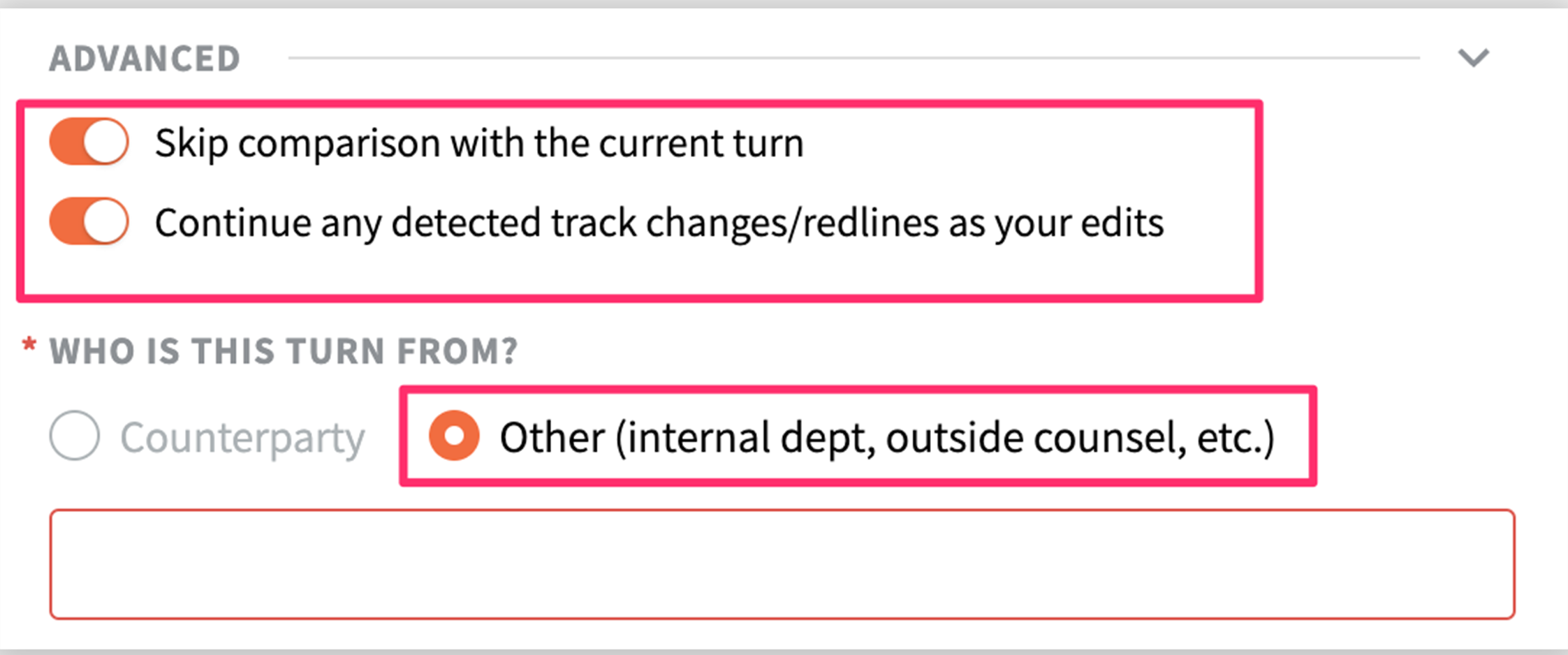 Note: When Continue any detected track changes/redlines is selected, or when both Advanced options are selected, you can only choose Other under Who Is This Turn From? This is so you can focus on making edits in your own team or organization.
With these Advanced options to upload a new turn of a contract, you can continue your draft in DocJuris from where you might have left off in a Word document or other program. You can incorporate new versions or changes from a word processing file, export your edits or an amendment, and complete existing drafts all within the app.