Contract Types Overview
DocJuris offers a wide variety of contract types to help you work efficiently. Below is a list of suggested default contract types users can be accessed and used in the DocJuris platform.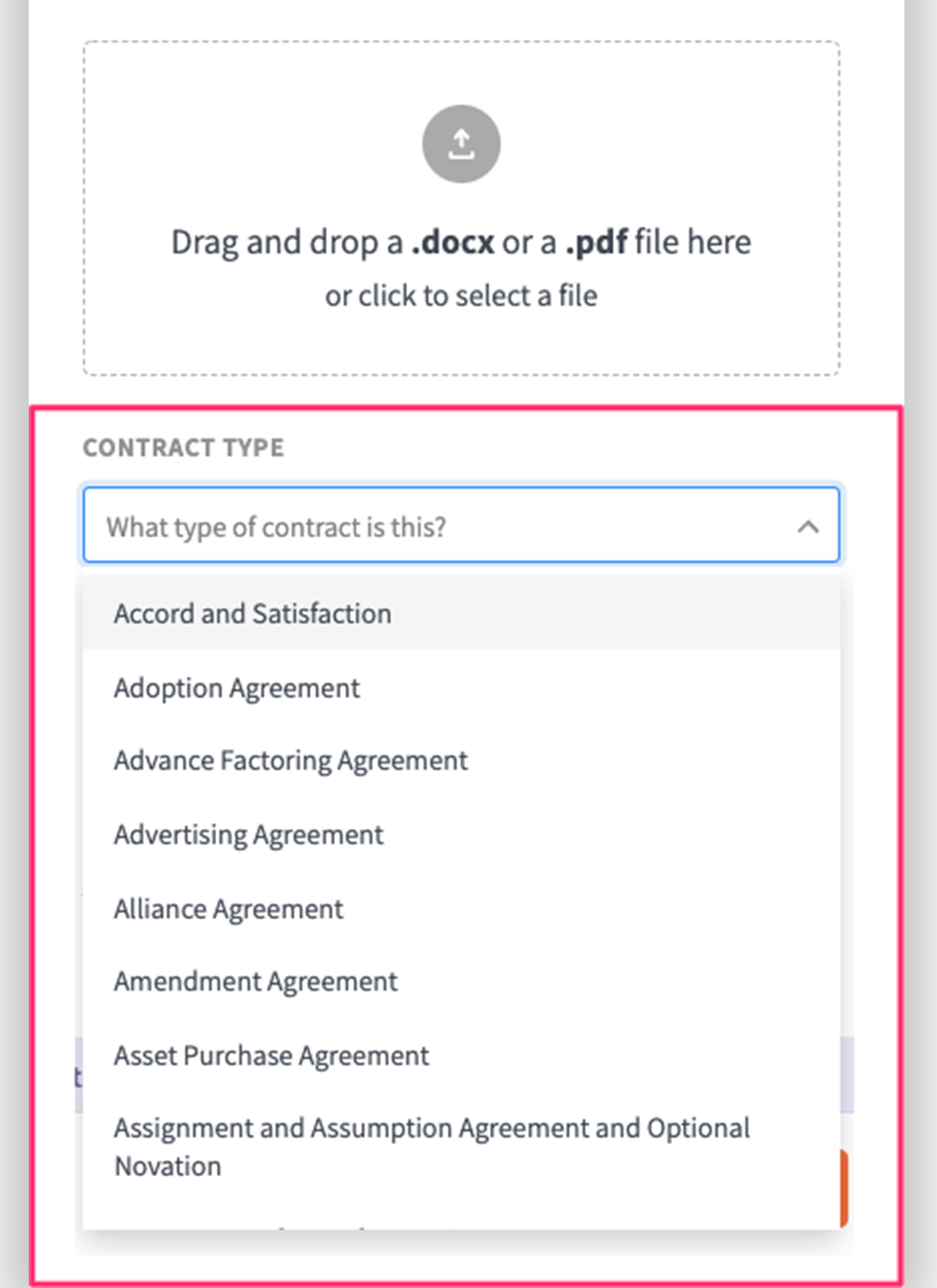 Custom Contract Types can be added to your account. To request custom Contract Types, please reach out to us at support@docjuris.com.
List of Contract Types in Alphabetical Order
Accord and Satisfaction
Adoption Agreement
Advance Factoring Agreement
Advertising Agreement
Alliance Agreement
Amendment Agreement
Asset Purchase Agreement
Assignment and Assumption Agreement and Optional Novation
Assignment of Manufacturer's Warranty
Bailment Agreement (License for Tangible Research Products)
Bill of Lading Terms and Conditions
Bill of Sale
Board Adviser/Observer Agreement
Business Associate Agreement
Business Income Insurance Policy
Buy-sell Agreement
Call Option Agreement
Channel Sales Agreement
Clinical Trial Agreement
Cloud Hosting Agreement
Code of Conduct
Collateral Warranty
Collection Factoring Agreement
Co-Manufacturing Service Agreement
Commercial Auto Insurance Policy
Commercial General Liability (GCL) Insurance Policy
Commercial Letter of Credit Reimbursement Agreement
Commercial Property Insurance Policy
Commercial Umbrella Insurance Policy
Consignment Agreement
Construction Contract
Content License Agreement
Contract Manufacturing Agreement
Contribution Agreement
Convertible Note
COPAS Agreement
Corporate Vehicle Purchases or Lease
CRINE/LOGIC Contract
Cross-Marketing Agreement
Customer Specific Terms and Conditions of Purchase (POs)
Customs Broker Agreement
Cybersecurity Insurance Policy
Data Access Agreement
Data License Agreement
Data Processing Agreement
Data Security Addendum
Derivatives Contract
Design Services Agreement
Design Win Agreement
Directors and Officers (D&O) Liability Insurance Policy
Distribution Agreement
Domain Name Transfer Agreement
Donation Agreement
Donation of Goods Agreement
Drilling or Rig Contract
Drug Manufacturing Agreement
Employee Confidentiality and Proprietary Rights Agreement
Employee Liability Waiver and Indemnification Agreement
End User License Agreement (EULA)
EPC/Balance of Plant Construction Contract
Equipment Lease Agreement
Equipment Sale/Installation Contract
Errors and Omissions (E&O) Insurance Policy
Escrow Agreement
Event Agreement
Facilities Services Agreement
Factoring Agreement
FDA New Drug Application (FDA NDA)
Forbearance Agreement
Framework Agreement Interim Management
Freight Forwarding Agreement
Gas Balancing Agreement
General Business Agreement
Health & Safety Related Contract
HIPAA Business Associate Agreement
HIPAA Data Use Agreement
Hospitality Contract
Hub Operator Agreement
Indemnification Agreement
Independent Contractor Agreement
Intellectual Property Assignment Agreement (IP)
Interconnection Agreement
ISDA Master Agreement
Joint Development Agreement
Joint Operating Agreement
Laboratory Agreement
Land Services Agreement
Letter Agreement
Letter of Credit for Sale
Letter of Intent
Limited Partnership Agreement
LLC Agreement
Loan Agreement
Loan Purchase Agreements
Market Research Agreement
Marketing Services Agreement
Master Logistics Agreement
Master Purchase Agreement (MPA)
Master Service Agreement
Master Staffing Agreement
Master Warehousing Agreement
Material Transfer Agreement
Membership Interest Purchase Agreement
Memorandum of Understanding
Merchandising License Agreement
Merger Agreement
Misc./General Commercial Contract
Mortgage Loan Agreement
Mutual NDA (Confidentiality)
NDA (Confidentiality)
Negotiable Promissory Note
Non-Real Estate Lease Agreement
Note Purchase Agreement
Novation Agreement
Office Lease
Oil and Gas Lease
Order Form
Parent Guaranty
Participation Agreement
Power of Attorney
Power Purchase Agreement
Preferred Supplier Program Agreement
Pricing Agreement (General)
Product Lease Agreement
Product License and Commercialization Agreement
Product Placement Agreement
Production Services Agreement
Professional Liability Insurance Policy
Professional/Consulting Services Agreement
Publisher Services Agreement
Purchase and Sale Agreement
Purchase Order (PO)
Real Estate Lease
Recruiting Service Agreement (Permanent Placements)
Release Agreement
Repair Service Agreement
Request for Information (RFI)
Request for Proposal (RFP)
Request for Quote (RFQ)
Research License Agreement
SAFE: Simple Agreement for Future Equity
Security Agreement
Service Level Agreement
Settlement and Release Agreement
Share Purchase Agreement
Shareholders' Agreement
Short Form Agreement for Goods and Services
Software as a Service Agreement (SaaS / Subscription)
Software Evaluation Agreement
Software License Agreement (On-Prem)
Software Source Code Escrow Agreement
Sourcing and Supply Agreement
Speaker Agreement
Sponsored Research Agreement
Sponsorship Agreement
Standard Terms and Conditions of Purchase (POs)
Standby Letter of Credit
Standstill Agreement and Covenant Not to Sue
Statement or Scope of Work
Stock Option Agreement
Subcontracting Agreement
Subscription Agreement (Non-Software)
Supplier Managed Inventory Agreement
Supply Agreement
Tax Sharing Agreement
Technology as a Service Agreement
Technology License Agreement (IP)
Temporary Agency Worker Agreement (Temps)
Temporary Employee Staffing Agreement
Tenants In Common Agreement
Termination Agreement
Terms (General)
Terms and Conditions Agreement
Training Agreement
Transition Services Agreement
Transportation Agreement
Underwriting Agreement
Unilateral NDA (Confidentiality)
Utility Easement Agreement
Vendor / Non-Sales
Waiver
Warehouse Line Agreements
Warrant
Website Terms of Use
Workers' Compensation Insurance Policy
Works Made For Hire Agreement
Video Overview