Opening an Existing Playbook
Existing playbooks are available at the bottom of the dashboard in blue tiles.
You can also see all of your playbooks in a list by clicking "View All Playbooks".

This playbook covers North America contracts for services only.

Note: you won't find this useful if you have 12 or less playbooks.

Creating a New Playbook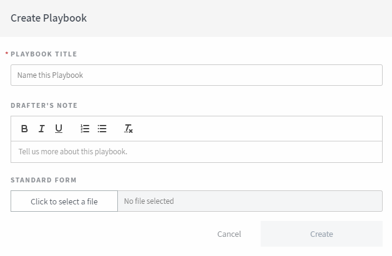 Click on Create a Playbook.
Drafter's Note - A high-level drafter's note is helpful to describe the purpose or provide high-level info about the playbook.
e.g., This playbook covers North America contracts for services only.
Standard Form Upload - If you have a form of agreement related to this playbook, uploading it will allow you to analyze and compare a counter party's redlines.
General Playbook Info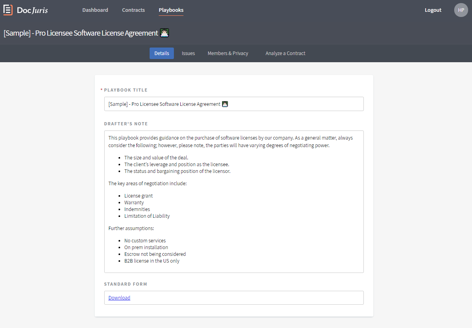 Details tab - General playbook information;
Download link - located at the bottom of the Details tab. Click to download or update the standard form associated with this playbook.
Issues tab - View the negotiation issue list.
Members & Privacy tab - User access rights.
Analyze a Contract tab - Launch a contract analysis against this playbook.
Navigating the Issue List

Filter/Search for an issue in your playbook.
Click an issue to view details (provisions, positions guidance, etc.) The issue list can be re-ordered by dragging the dotted handle bars.
Delete an issue. (Careful! Cannot be undone.)
Right pane: Upload or view a sample document to create, edit, and/or test the playbook.
Sections in each Issue (Look for the EDIT icon to modify these sections).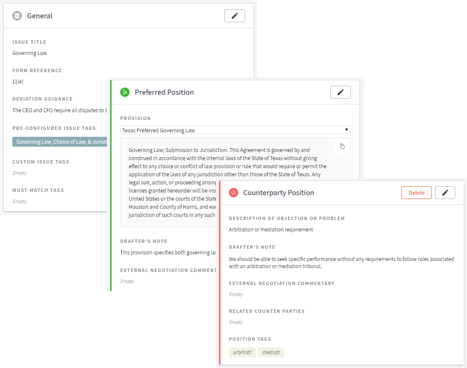 General: Title of the issue, references back to the form, general deviation guidance and search tags to configure keyword matching.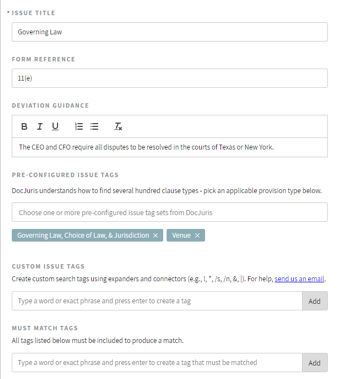 All issues have a title and general deviation guidance. Optionally, add a reference back to the form.
DocJuris playbooks use "tags" to search through and highlight contracts.
Pre-configured Issue Tags: proprietary data set that issue spots 150+ clauses.
Custom Issue Tags: use search connectors to design your own custom search - click here to learn more about DocJuris' connectors.
Must Match Tags: limit the search further with additional custom search parameters.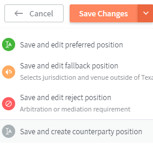 When saving, click the drop-down arrow to save and go to another section of the issue for quicker navigation.
Preferred Position: Define one or more preferred clauses/provisions (or none, if prefer to be silent) together with a drafter's note and commentary.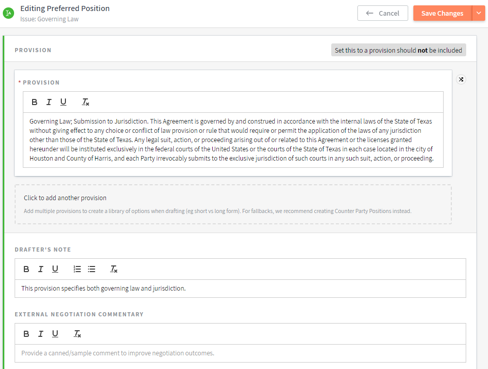 Click the grey box in the upper right portion of the section to set the preferred position to either:

a provision should be included; or
a provision should NOT be included; (i.e., preference is to be silent).

Add multiple provisions to break down the preferred position further. For example, create a long vs. short form approach to the provision depending on the circumstance.
Add a Drafter's Note to explain the concept to the internal reviewer. Separately, add external negotiation commentary to save standard comments you may want to include in a redline for the counter party's review.
Counter Party Position(s): Sets forth one or more objections or problems you encounter, and how you prefer to negotiate these positions; (i.e., fallback, accept, reject).
Don't forget to save!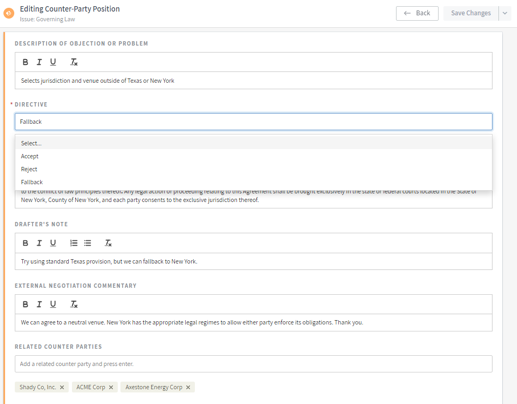 Summary
DocJuris' playbook engine allows you to configure:
Playbook Details ( i.e., title of playbook, high-level drafter's notes, and upload standard form).
Issues (i.e., Itemized negotiation documentation that can be ordered accordingly).
General Information (i.e., Title of issue, deviation guidance, and search parameters).
Preferred Positions (i.e., go-to clauses and concepts to avoid, drafter's notes, external commentary).
Counter Party Position(s) (i.e., red flags, opportunities to fallback, and acceptable second positions).
Video Overview