In this article, we'll examine some best practices for creating and organizing your Playbooks.
If you're just getting started with Playbooks, feel free to explore our in-depth articles and videos in the Playbooks section of DocJuris University.
Otherwise, read on for further information for Playbooks Best Practices.
4 Things to Consider Before Setting Up Your Playbooks
1. What is the scope of this playbook?
Establishing the scope of your Playbook (contract type, review of company paper vs. 3p paper, etc.) will help you stay organized in your Contracts review workflow.
2. Who will be using it?
Consider who will be using your Playbook: specific user groups, business, legal, outside counsel, etc.
Tip: Make sure you go to the Members & Privacy tab in the Playbook Settings menu to ensure the right people have access to the Playbook.

3. How will you be using it?
Consider how you'll use your Playbook in your workflow: Manual use as a checklist/guide for contract review, automate use for DJ screening reports, etc.
Tip: This question is important to know for tagging purposes. If you plan on primarily using the Playbook for Screening Reports, make sure you set up Preferred Position tags.
4. Who will be in charge of updating the playbook content?
Legal playbooks will evolve over time as your contracting policies change. Who will be in charge of keeping the playbook up-to-date?
Best Practices for Designing Your Playbooks:
Some customers choose to start with 5-10 issues of their most important items to review and then build from there as time progresses. From our experience, this is the best way to implement our playbook model and recommend starting here!
DocJuris makes it easy to "stack" or apply multiply playbooks to your contract review. Because of this, we recommend

breaking down your bigger playbooks into smaller, bite-sized playbooks.

Another thing to consider is if the issues in a playbook can be applied to multiple contract types. If issues/issue groups can be applied to multiple contract types, then create separate playbooks for them to minimize playbook maintenance.

Example scenario: You're trying to build a playbook in DocJuris for Master Service Agreements. You open your company's MSA template and begin outlining your issues and issue groups in DocJuris. You may want to create an issue group for the defined terms and boilerplate terms that apply to your MSA, but these issue groups could also be applied to NDAs, License Agreements, Real Estate contracts, etc.
Consider creating three smaller playbooks:
To cover issues specific to MSAs (MSA playbook),
Definitions (Defined terms playbook), and
Boilerplate terms (Boilerplate playbook).
This is helpful if your definitions and boilerplate issues like governing law, assignment, force majeure, etc. are consistent across multiple contract types.
Best Practices For Outlining a Playbook:
Playbook Editor: Issue List
Playbook Editor: Create New Issue
When you have an idea of how you'd like to structure your playbook, go to DocJuris and create a new playbook in the app. Start creating a rough outline of your playbook by setting up just a list of issues and issue groups (playbook skeleton).

Tip: Some customers create their playbook skeletons by outlining issues in the same order as their associated contract template.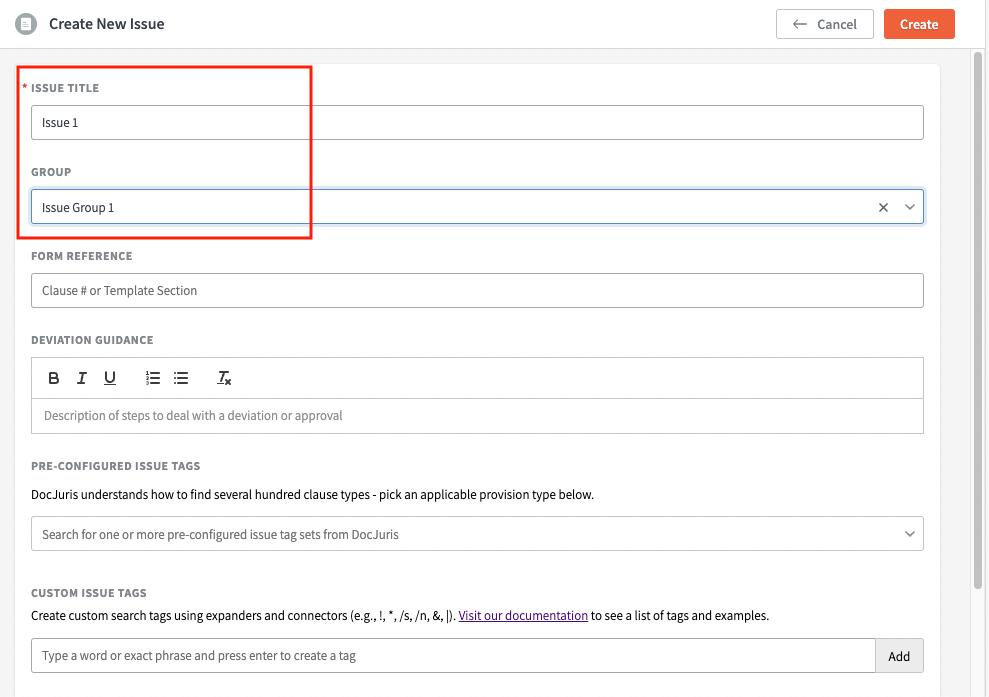 After you outline individual Issues, you can then organize them together into Issue Groups.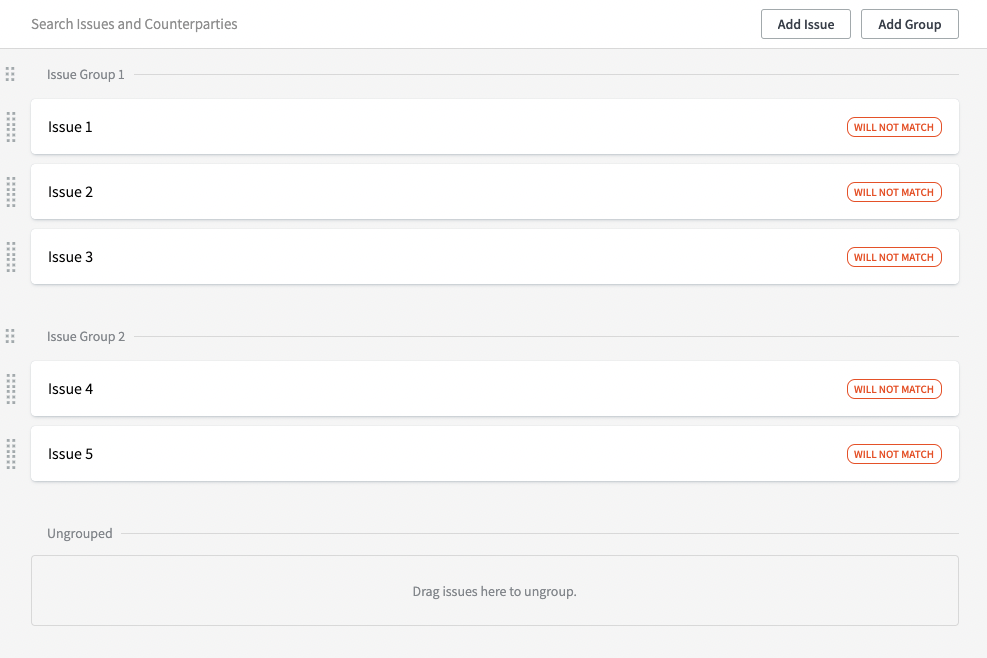 Once your playbook skeleton is created, go in each issue and insert your preferred position, counter party position(s), drafter's notes, external comments, etc.
If there is a specific factor or "sub-issue" you'd like to highlight and look for in your provisions,

create a separate issue for that factor so the system can pick up and identify language around that sub-issue.

For example: If you have a general indemnification issue in your playbook outline, and you have a contracting policy around the procedure for indemnification, then create an issue group for Indemnification and create separate issues in DocJuris for Indemnity, Indemnification Procedure, etc.