In this article, we'll cover how to update existing Auxiliary Flows in Power Automate.
If you're just getting started with installing auxiliary Flows, you'll first want to check out our article on Installing DocJuris' Auxiliary Flows.
You can also follow the summarized instructions in the Quickstart Guide below.
Quick Start Guide
Download the DocJuris Auxiliary Flow .zip file located at the bottom of this article.
Visit https://make.powerautomate.com and click Solutions in the left menu.
Click Import Solution and then click Next.
Click Import and select the latest version of the .zip file in step 1 OR your latest updated auxiliary Flow. After you select the file to import, Power Automate will start uploading it. Please wait a few seconds for Power Automate to complete the upload.
You'll see the following screen if you're uploading a new version of the DocJuris Auxiliary Flows or have completed these steps in the past.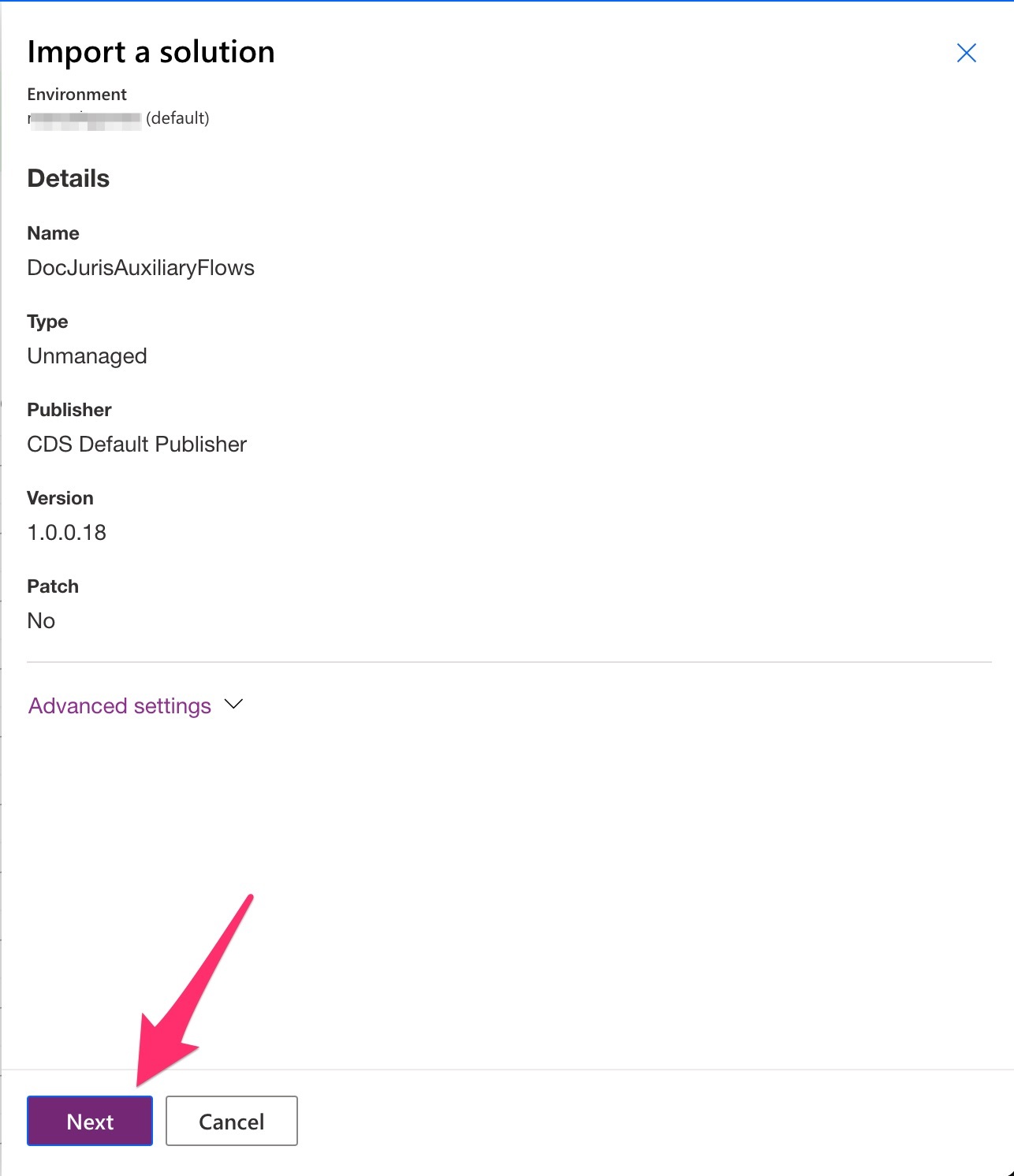 Power Automate Replaces Existing Auxiliary Flows with New Versions
Since you already have a Solution, Power Automate won't upload a new one. Instead, it will upgrade the existing Solution, by adding any new Flows and/or replace the existing ones with newer versions. This saves time, since if you're using DocJuris' Auxiliary Flows in your environment, you won't need to re-map them or make any additional changes to your existing Flows, while also getting all the upgrades and bug fixes automatically.
If you encounter an error message while updating your Solution, please refer to the "Common Problems" section below for steps on how to fix them.
Common Problems with Importing Updated Auxiliary Flows
Sometimes, while importing, the following error message can occur after the solution is imported:

Below are the most common problems mentioned in the warning error message, along with their corresponding solutions.
Deactivated/Disabled Flows:
If the error message mentions "deactivated" or "disabled" flows:
Check in the "DocJuris Auxiliary Flows" (or other Solution) to see if all Flows are enabled, and enable the ones that are not.
Inside the Solution, check the Flows with Type: Cloud Flow and check the Status column next to each Flow.
For any Flows that have Status: Off, click the Status to enable the Flow to On.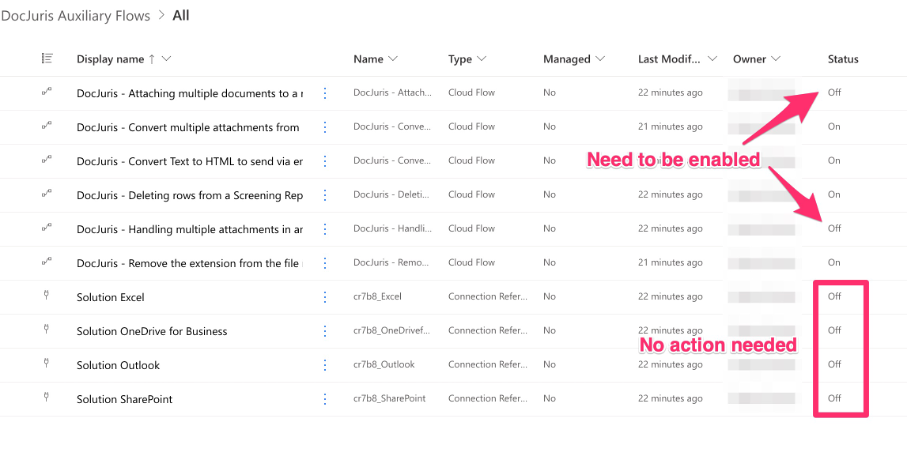 Only Flows need to be enabled. The connections in the Solution will have the Off status; no further action is required.
Policy Error
Sometimes companies block certain actions for security purposes, meaning that if any of the "DocJuris Auxiliary Flows" are using them, they will be blocked. If this is the case, you need to contact your system administrator to enable these actions so that the Flows can work as intended. Here's an article you can provide to your system administrator on how to solve the problem.
How to use auxiliary Flows
Once you add an auxiliary Flow to a solution, it's pretty easy to use them.
Finally, we offer live support. Please contact support@docjuris.com and we can jump on a screenshare!