Power Automate allows you to save time by automating multiple tasks. In DocJuris, some of these tasks can include creating a contract in the app and then notifying team members on Microsoft Teams, as well as getting all attachments from Microsoft Forms and sending them via email.
If you're just getting started with Power Automate, you'll first want to check out our Overview of Power Automate guide.
As you work in Power Automate, you'll be developing Flows to complete tasks. But if you're developing Flows and notice that you're doing these complex tasks repetitively, then you need DocJuris' auxiliary Flows that do some of these difficult tasks for you. They hide all the complexity of the actions in one simple callable action, that you can reuse in all your Flows.
In this article, we'll outline what auxiliary flows are, how to import them, and understand how to use them in your projects and environments.
Prerequisites
DocJuris for Power Automate requires a paid subscription to DocJuris. Please get in touch at www.docjuris.com or email DocJuris Support.
How to Get Credentials
⚠️ Your DocJuris login is not your username/password for the Power Automate connector. To grab your connector username/password, please see below.
Head over to your DocJuris Organization Settings in your DocJuris account.
Scroll down and copy your Organization ID. Paste this into Power Automate as the Organization ID. You'll see this key under Here is the Organization ID that you should use when accessing the DocJuris API:
Under API Keys, create a new key (name it something useful) and copy the API key. Paste this as the apiKey field in Power Automate.
What are auxiliary Flows?
Think of an auxiliary Flow as a "black box" that contains multiple complex actions. You provide inputs, it performs the steps for you, and, depending on the Flow, returns a result. The idea is for you to call them and not have to worry about complex actions like uploading attachment files to a SharePoint list item, for example.
Auxiliary Flows are built with actions that you have at your disposal in Power Automate, but by combining them in one separate "box", we can:
Reuse sets of everyday actions into one Flow.
Time to build Flows is significantly reduced since we have these auxiliary Flows already prepared to use.
Hides complexity in your Flows by making them easier to read.
Better Flow maintenance since any change only needs to be done in one place (in the auxiliary Flow).
All auxiliary Flows are ZIP files with a format that Power Automate knows and can import. We'll go into a lot more detail below on how to import them, but if you already know how to do it, you can go to DocJuris' list of available auxiliary Flows to get started.
Note: You can download a sample auxiliary Flow as a ZIP file to use for this exercise in Power Automate, attached at the end of this article. Please see the section at the end of this article, Sample auxiliary Flow, for further details.
Now that we know what auxiliary flows are, let's see how to use them.
Getting Started
To start with auxiliary Flows, you must download an auxiliary Flow from DocJuris' library. You can also download a sample auxiliary Flow ZIP file, attached at the end of this article.
We don't need to know the structure of the ZIP file or to unzip them. Power Automate will take care of everything.
Import the Flow
To import the auxiliary Flow, you need to go to https://make.powerautomate.com/ and then select My Flows.

Next, let's press Import and then select Import Package (Legacy).

You'll be presented with the import screen. If you don't have a file, you can find it in DocJuris' library. Press Import, then press Upload.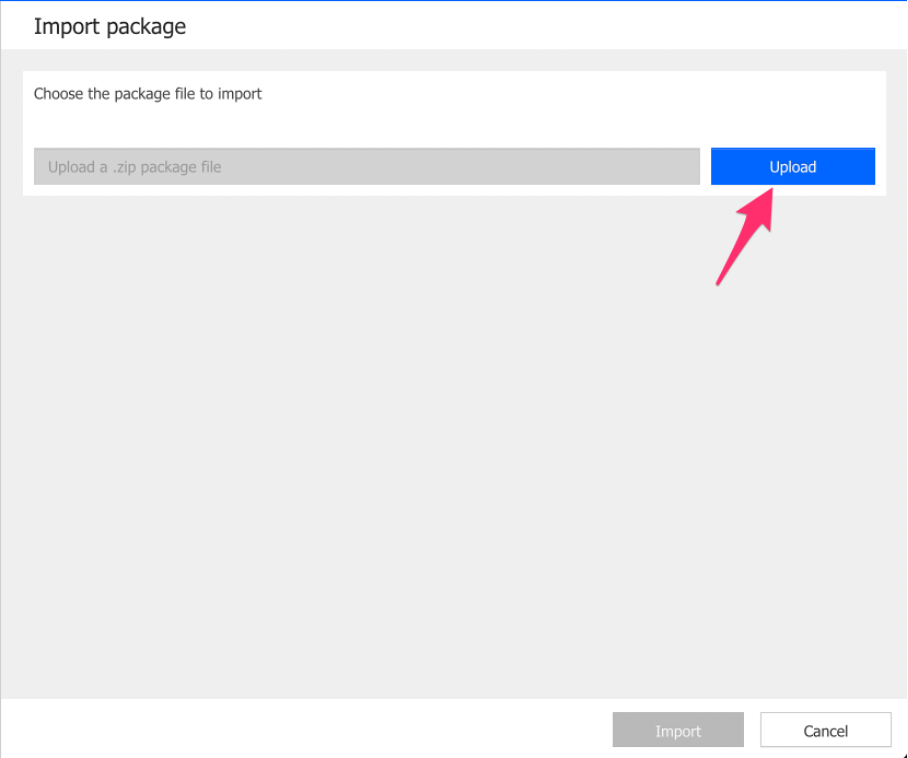 After you select the file to import, Power Automate will start uploading it.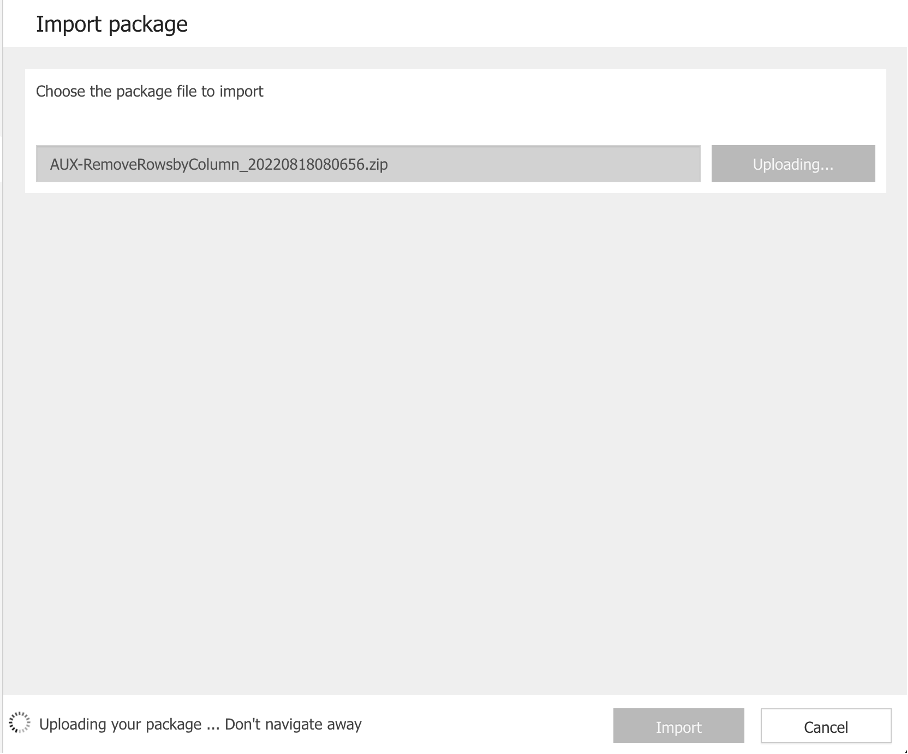 Please wait a few seconds for Power Automate to check the file during the upload (and please don't navigate away from the window).
Since we're importing to another environment, Power Automate requires to map the connections to your environment, so we'll need to configure the following section: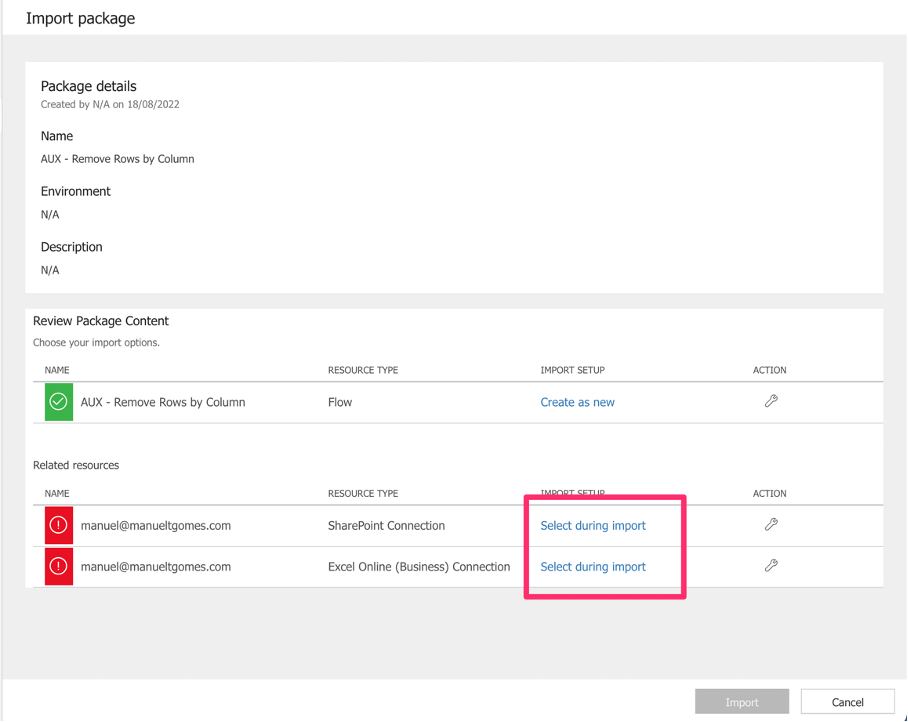 Depending on the auxiliary Flow that you import, there may be more or fewer connections to configure, but you need to map all of them before you can proceed to the next screen.
To map a connection is quite simple. You only need to press Select during import, and you'll see the following screen: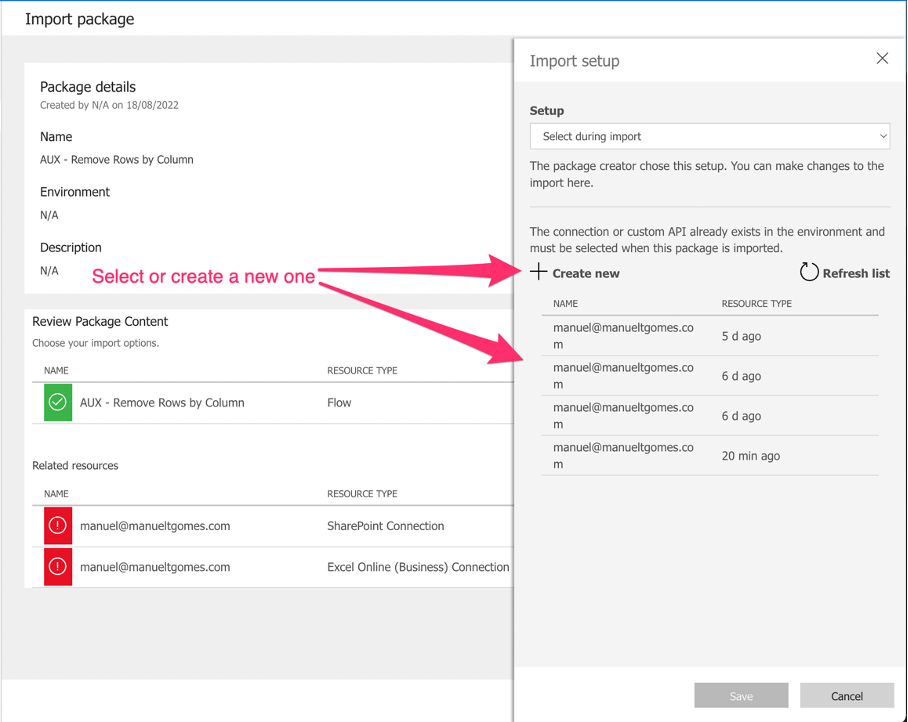 Depending on your environment, you may have connections already configured or need to configure a new one. If you need a new connection, Power Automate will open a new window for you to create it. Once you've created the new connection, please go back to the original window and press Refresh list to show the new connection.
Repeat the process for all the remaining connections, and you should have a window like this: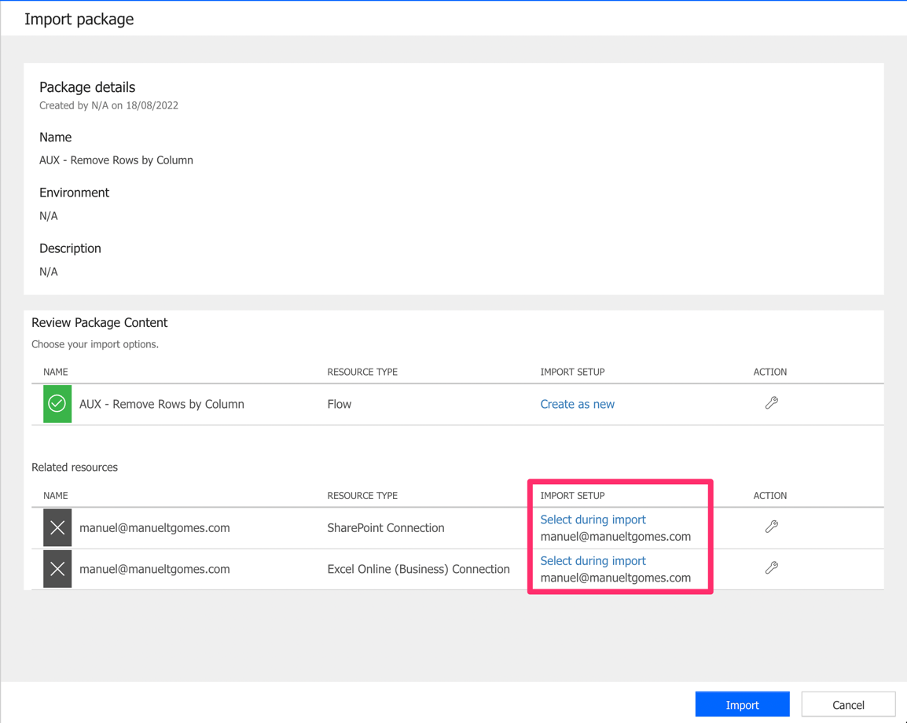 You may see other email addresses you own depending on your defined connections. This is not a problem, but be sure that the email you see corresponds to the account you're trying to connect to.
Once all connections are defined, the Import button will turn blue. Press it to begin Importing.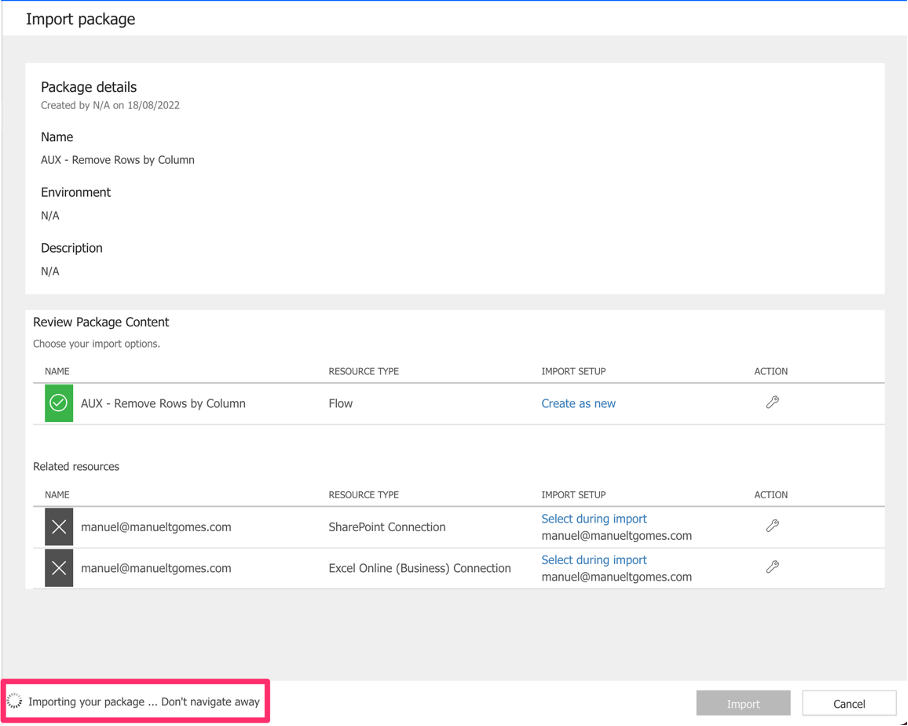 Like before, you should not navigate away from the window and wait for the Import process to end.
Once it's finished, you'll see something like this: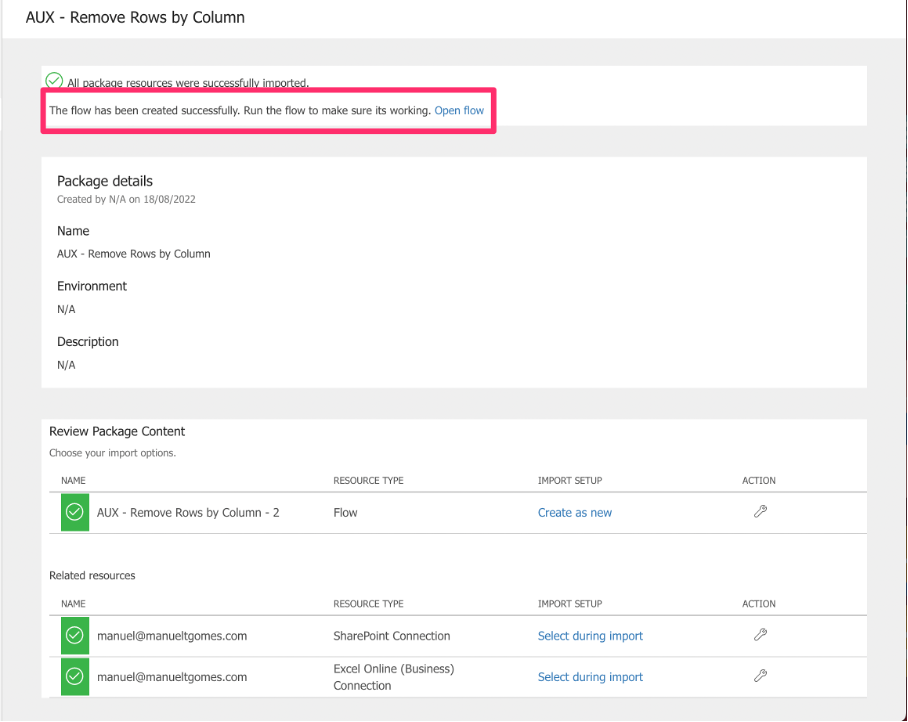 You can find your Flow by pressing the link to Open flow or going back to My Flows.

Note: by default, the Flow is disabled. You need to enable the Flow to be able to use it.
To activate the Flow, press the three dots and then Turn On.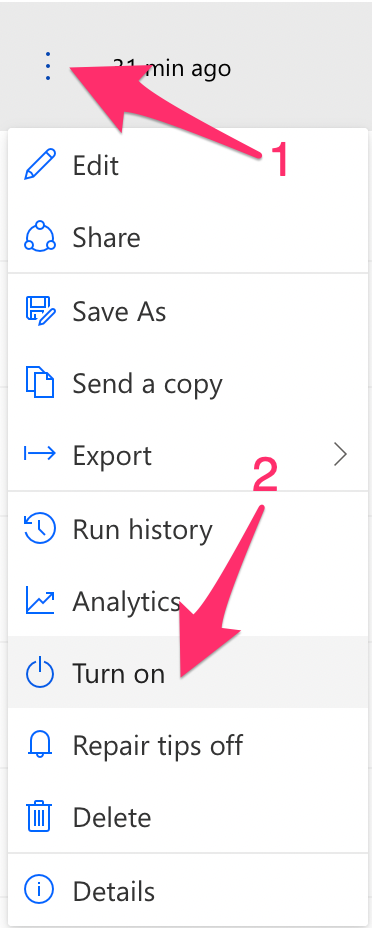 Your auxiliary Flow is now imported. Next, we need to import it to a solution to be able to use it.
What is a solution?
Solutions are places in Power Automate where you can group multiple Flows, Power Apps, and Reports to name a few, into one logical unit. Solutions are primarily used to move all these pieces simultaneously between different environments enabling you to have a development and production environment, for example. Also, you can combine multiple Flows with the same connection references and have variables that can be shared between an application and a Flow, but above all, it's a great way to organize your Flows.
Solutions provide an essential feature where you can call specific Flows, called child Flows, from inside another Flow as if it was any other action.
We'll use our auxiliary Flows in this manner, but it's important to point out: you can only call auxiliary Flows inside a solution.
Having a Flow located in My Flows is the first step. Next, let's see how to import a Flow into a solution.
How to import a Flow to a solution
Once the Flow is imported (check the previous section if you haven't imported the Flow yet), then you can go and add it to the solution.
Pick a solution from the list, then select: Add Existing, Automation and finally, Cloud Flow.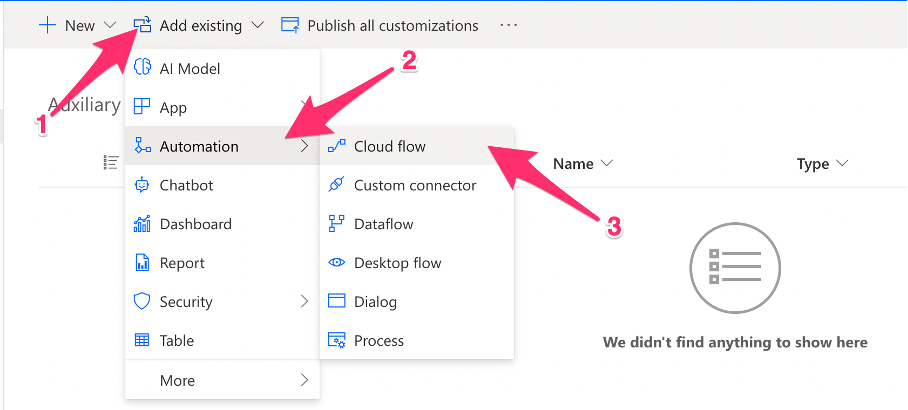 A new window will appear to add the Cloud Flow. Click Outside Dataverse.

Search for the Flow in the list:

Here, we can search for the name of the Flow. Depending on the number of Flows in your list, you may want to filter the results. To confirm, press Add at the bottom. You'll see the new Flow in the list.

Note: you don't need to put all Flows inside the same solution. You can have references to Flows in other solutions; however, if you export the solution, that particular Flow won't be included in the package. Plan accordingly in case you're thinking about exporting the solution.
That's it! Your Flow has been added, and now it can be referenced in other Flows.
Next, we'll explain how to use them.
How to use auxiliary Flows
Once you add an auxiliary Flow to a solution, it's pretty easy to use them.
As mentioned before, the Flows need to both be placed in solutions: the auxiliary Flow should be imported to the solution, and the Flow that you want to call to needs to be in a solution, as well.
It doesn't need to be in the same solution, so you can put all your Flows in a separate solution and then reference them, for example.
Select the Run a Child Flow action in any step of your Flow. You can find it under Standard.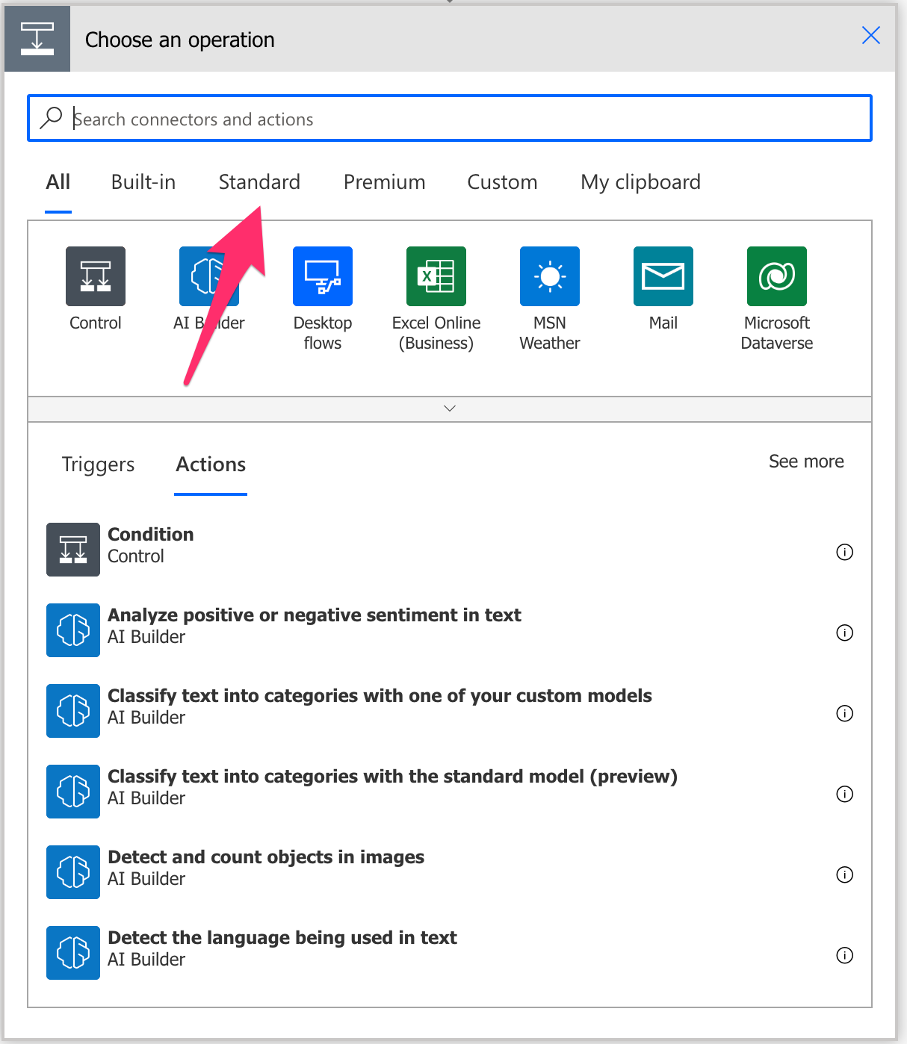 Select Flows.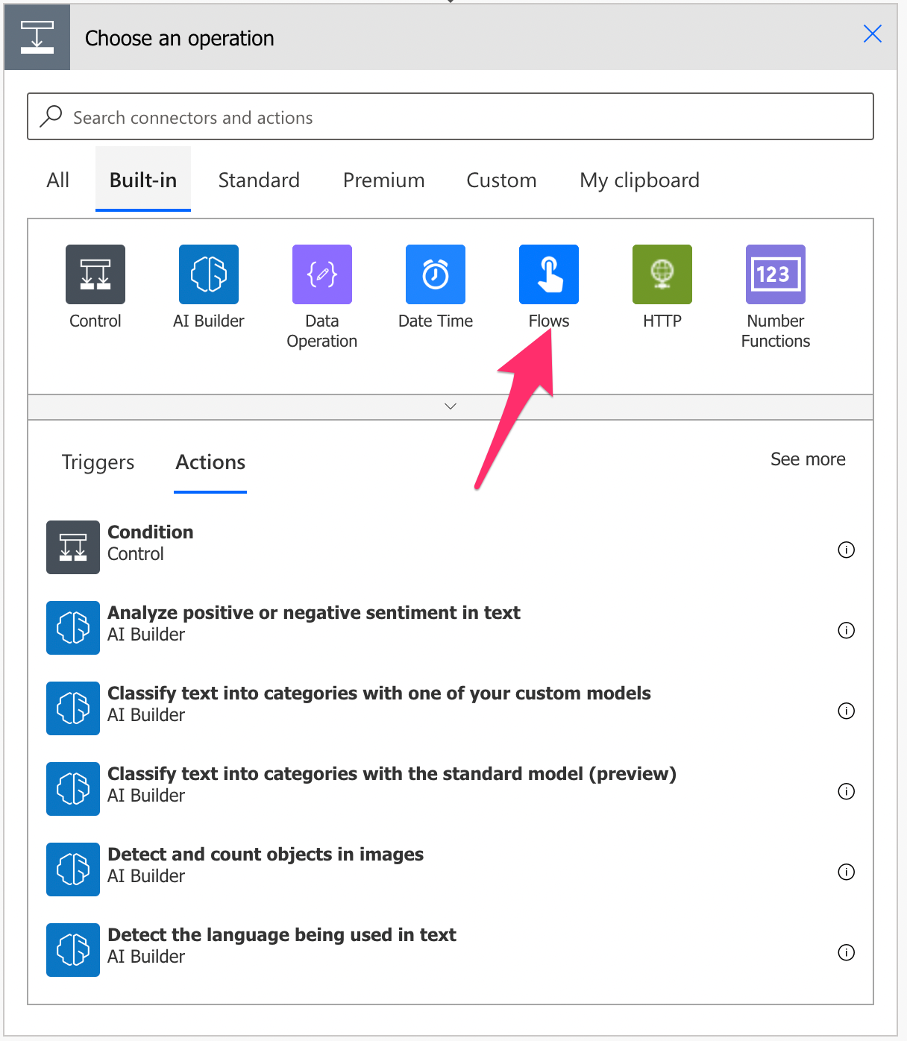 Select Run a child Flow.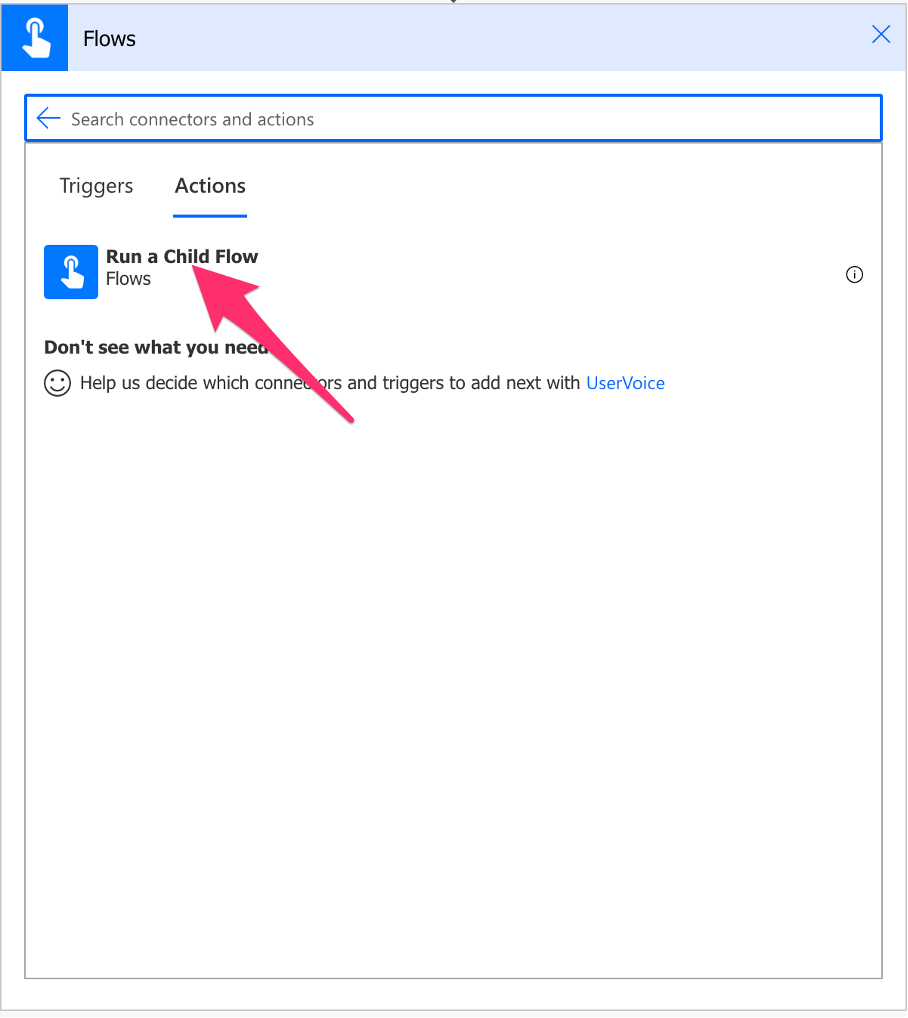 Pick the auxiliary Flow from the dropdown menu. We'll use the Remove Rows by Column for this example.

Once you select it, Power Automate will update it with the fields you need to provide for the Flow to work.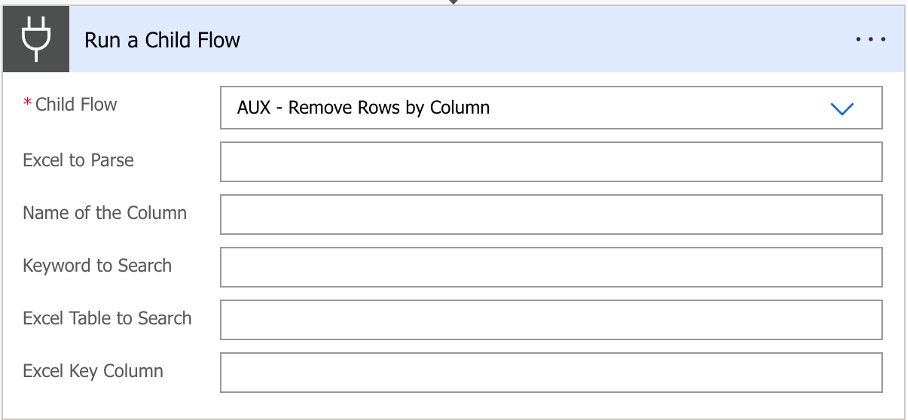 Provide the necessary parameters and test your Flow.
Some auxiliary Flows will return data. To access it, you can navigate to the dynamic properties in any action and pick them from the list. In the previous example, we'll get a new file, so here's how to get the data: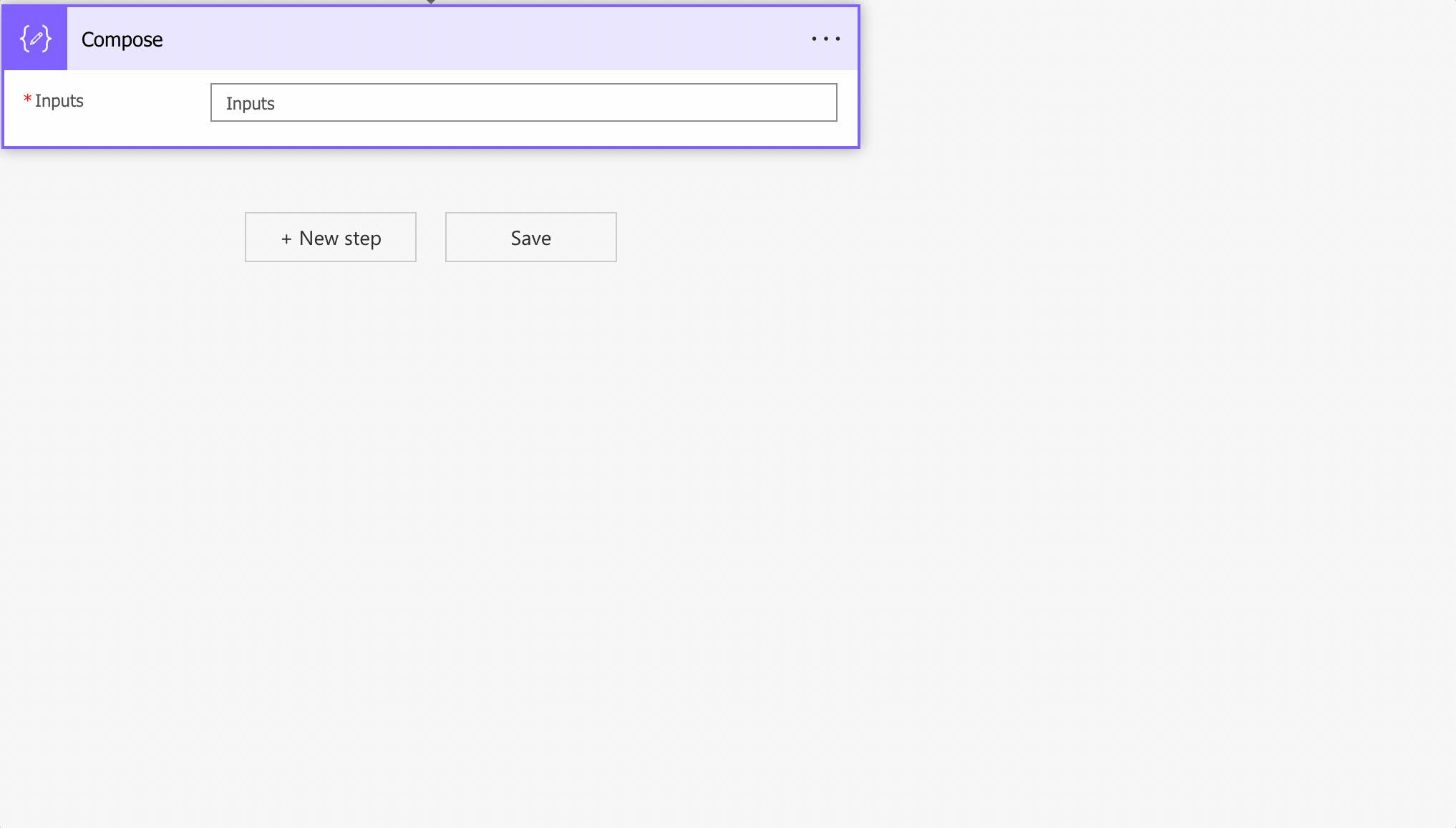 As you've seen, you can consider the auxiliary Flows as any other actions, but in this case, they are custom actions that you define using the Run a child Flow action.
Sample auxiliary Flow
Here, you can download the sample auxiliary Flow as a ZIP file to use for this exercise in Power Automate, attached. Please see beneath this section.
Click the file attachment to download the sample auxiliary Flow ZIP file.
Once the sample Flow ZIP file is imported into your Power Automate Flow, enabled, and placed in a solution, it will receive a text and return it with a message:
"We got the following text \"<TEXT HERE>\". If you can see the text and this reply, then your AUX Flow is working correctly."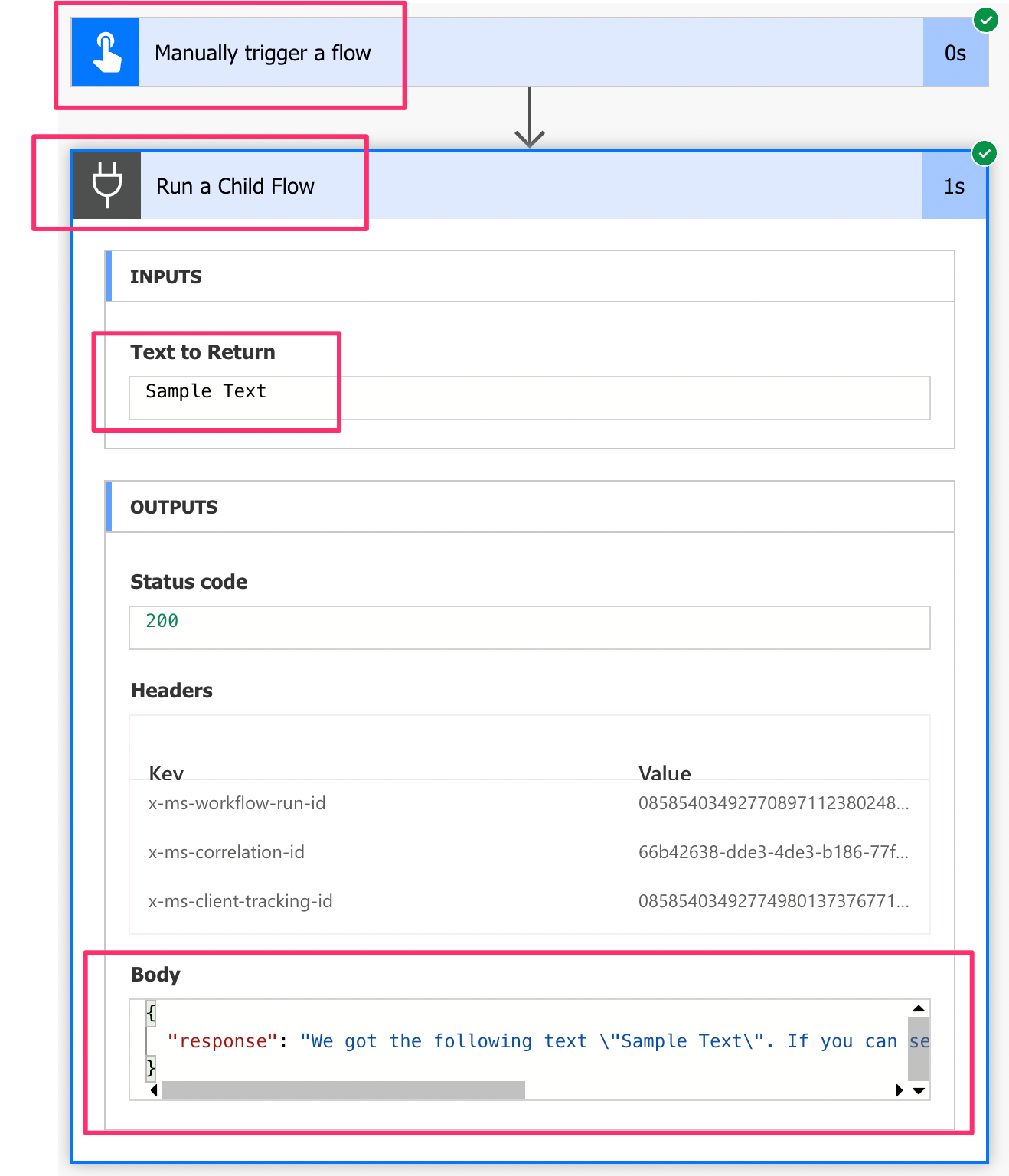 Once you get this message as a result, you'll know that you are configuring the AUX Flows correctly.