DocJuris for Power Automate empowers users to connect apps together to create useful contract workflows that save time and risk. With the connector, users can leverage DocJuris' innovative contract collaboration and editing capabilities to automate an organization's contract lifecycle from intake to esign to storage. For example, route a contract request from Microsoft Forms to DocJuris and simultaneously notify users in Teams or in Dynamics. DocJuris and Power Automate are a perfect complement to enrich contract processes and enable low code automation for small and large teams.
Linking DocJuris to Power Automate
To set up your first connection between DocJuris and Power Automate, create a new flow at make.powerautomate.com. Next, search for DocJuris in the list of connections, and you'll arrive here: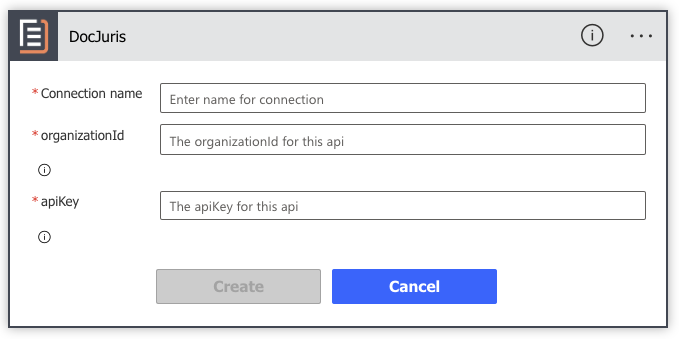 Head over to your DocJuris Organization Settings in your DocJuris account.
Scroll down and copy your Organization ID. Paste this into Power Automate as the Organization ID. You'll see this key under Here is the Organization ID that you should use when accessing the DocJuris API:
Under API Keys, create a new key (name it something useful) and copy the API key. Paste this as the apiKey field in Power Automate.