Introduction to Collaboration in DocJuris
Collaboration within DocJuris is configured for real time, synchronous work. Multiple Users can edit documents simultaneously with all reviews immediately available. Teams no longer have to save, attach, and email work between members reflecting each iteration. To maintain document fidelity and ensure the highest accuracy, Paragraphs and Sections are "locked" while being edited. The end result is that although a Contract or agreement can be edited synchronously, a specific Paragraph and/or Section cannot be edited at the same time by multiple Users. Users can also interact with existing Playbooks in real time. (Ex: As a Playbook is used as a "checklist", all team members can see commentary and progress.)
Contract Access Rights and Levels
The first step to collaboration is accessibility. Users must be granted access to the Contract through the DocJuris platform or through a collaboration invitation sent via email. Access to the Contract can also be designated for varying levels of accessibility. DocJuris customization allows for leveled access for sections, provisions, or the full contract. Only Admins can access another User's Contract without explicit designated access.
When an Internal or External Comment, or @Mention, is written, an invitation email is automatically sent to the appropriate team member. Users are asking for - and granting - collaboration by default. This feature is particularly useful if agreements needs approval or editing through multiple divisions of a company.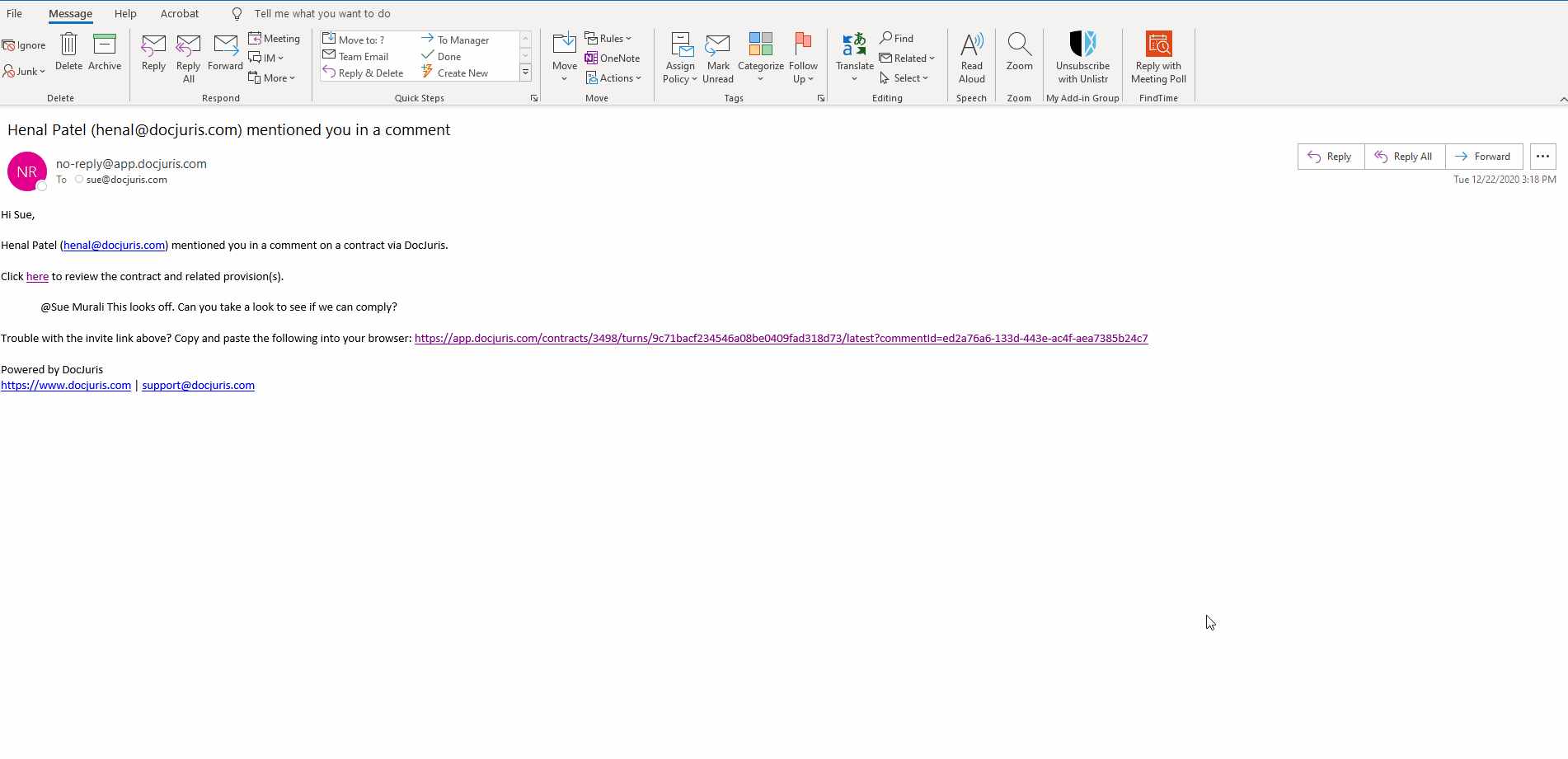 Access Levels
DocJuris IT Admin: Full access, including to enable Single-Sign On.
DocJuris Admin: Full access to all Contracts.
Contract Author: Controls access to their specific Contracts, but Admin can override.
User: Accesses Contracts with designation by Contract Author or Admin.
In order to invite someone to collaborate on contract revision, send a URL to the contract.
DocJuris Collaboration Automations Use Case
An Internal @Mention names a team member.
Through Zapier or Power Automate, connectors have been established with DocJuris, Project Management, and Email Applications.
Upon edit that includes an @Mention, the Team member is notified by email and also has a task added to their Team Workflow.
All Users and Project Leads can see progress in real time as the agreement is being reviewed.
Video Overview