Analyze a Contract Button
To get started with a contract review, click the Analyze a Contract button on the Dashboard.

This button is also available within a Playbook, which pre-selects the Playbook automatically.
General Options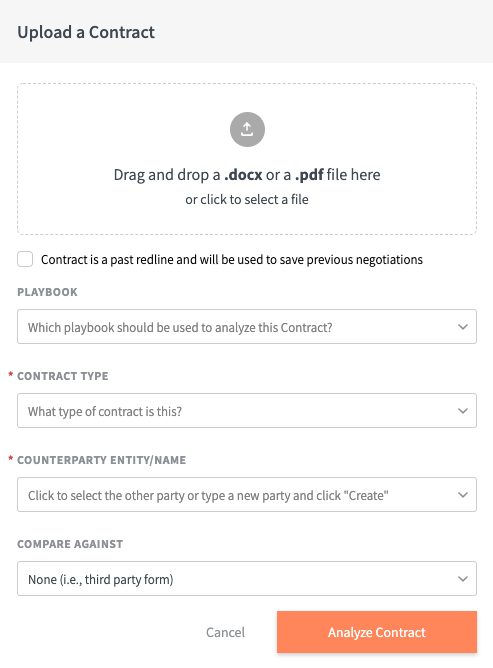 Dragging and Dropping a Contract
The first option is to upload a contract to the DocJuris tool. This can be either a .doc, .docx, or .pdf. In all cases, DocJuris will enable your team to edit and redline the contract. (Please note that the time required to upload a contract into DocJuris varies depending on the file format and size. For instance, if a PDF is uploaded, the DocJuris tool will then decrypt and upload the file which takes additional time.)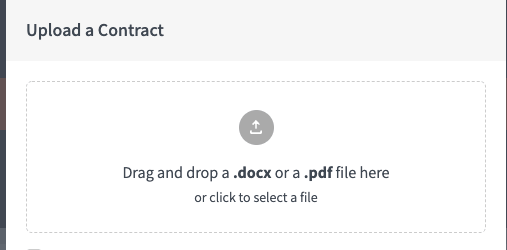 Applying a Playbook
Playbooks are optional in DocJuris. When applied, DocJuris will Analyze the contract and apply the Playbook. If a Playbook is not selected, DocJuris will still surface a powerful contract workspace that will help you markup, modify, compare, and reference previous redlines.

Selecting a Contract Type
Contract Types are predefined in DocJuris. However, if a Contract Type needs to be customized, please contact support@docjuris.com.

Adding a Counterparty
Counterparties reference the opposing side of contract negotiations. Contract Lists and Previous Redlines can be filtered and sorted by Counterparty information, which can be helpful.
New Counterparties can be added by typing the information, then pressing enter. Unlike Contract Types, Counterparties can be added to DocJuris by a User without assistance from DocJuris support.

Comparison Tool, or "Compare Against"
When beginning a contract review, comparing against an interim draft or previous agreement (e.g., comparing a Counterparty's edits against a previously assembled draft of a Standard Form) is a useful drafting starting point.
In DocJuris, users can (1) Upload a contract that needs Analysis and (2) compare it against another version right inside the "Analyze a Contract" window.

Adding Turns
Skip Comparison
When a turn is added to a contract workspace (via the "..." overflow menu under view all contracts or "Upload a New Turn" while in a contract), DocJuris runs a comparison by default. In DocJuris, Users can skip the comparison in case a retention is needed for open document markups for later discussion.
Note, use this option in conjunction with the "All Edits" feature of the export pop-up on the way out to keep the markup consistent through each multi-turn negotiation.
Other Considerations
DocJuris's new virtualized editing experience allows for the analysis of long, complex contracts, loading 200+ page PDFs, all on the web with zero Word plug-ins required.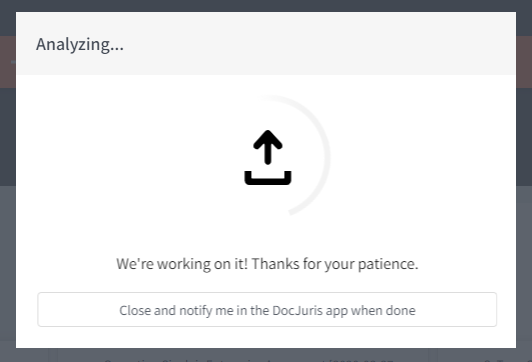 For example, when a large document is detected, DocJuris will analyze the document in the background of the app and give a notification when it is ready to be accessed.
Video Overview