In this article, we'll discuss uploading, comparing, and analyzing a contract.
Analyze a Contract Button
To get started with a contract review, click the Analyze a Contract button on the Dashboard to open the Upload a Contract Menu.

General Options:
This opens the Upload a Contract Menu.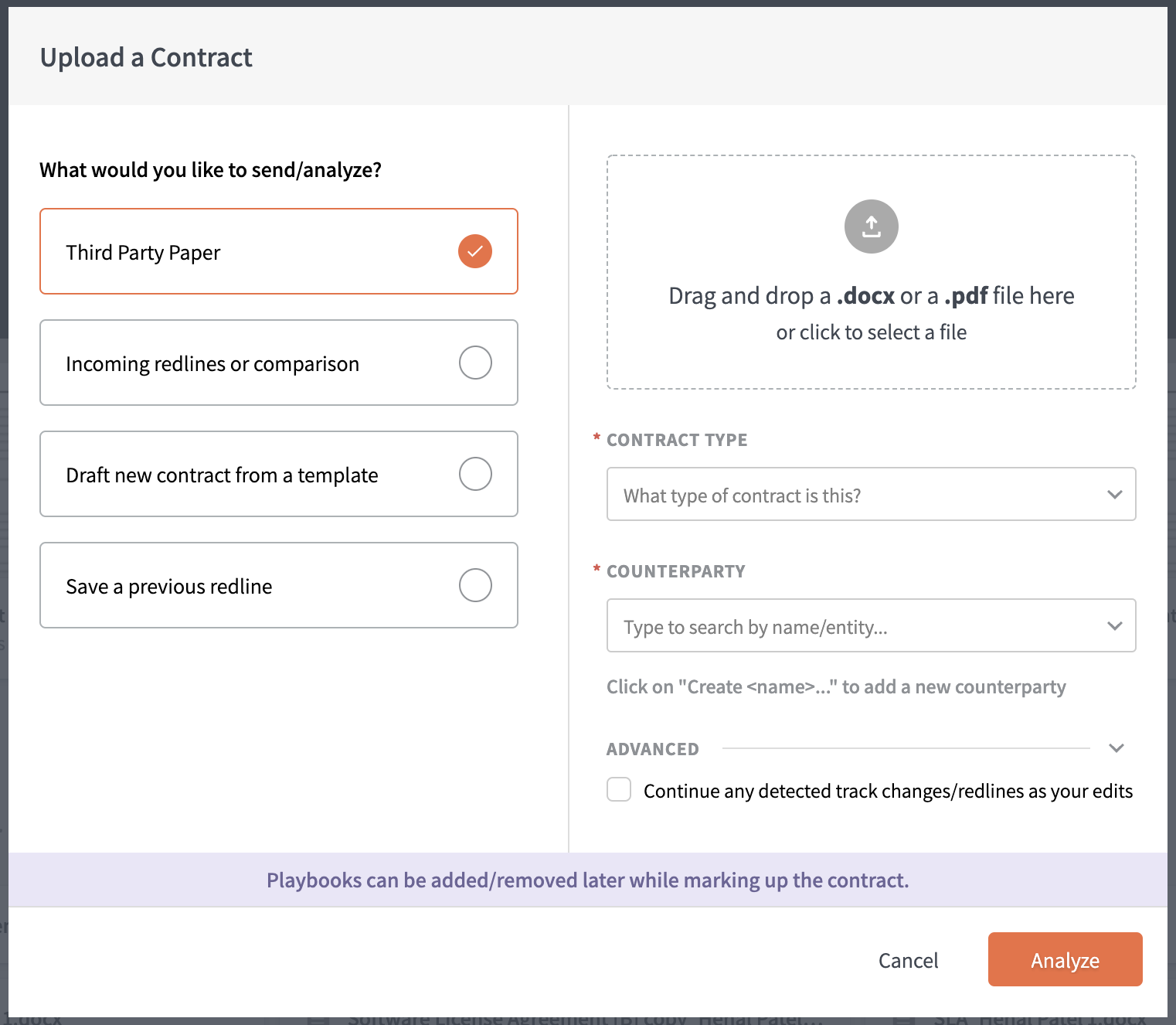 Now, you can select what kind of contract you'd like to send or analyze.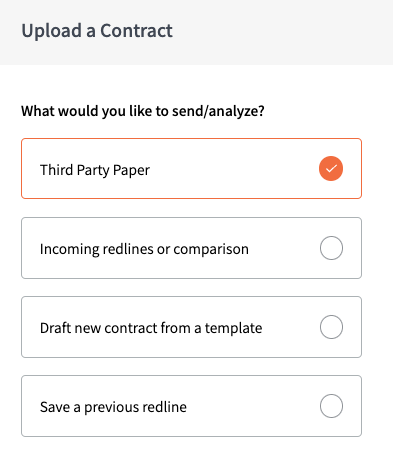 Third Party Paper
Choose Third Party Paper to upload the counterparty's base contract or standard form to review in DocJuris. This is the counterparty's base contract with their preferred provisions.
Incoming redlines or comparison
Choose Incoming redlines or comparison to perform either of the following:
Incoming redlines: Review an additional turn or revision from the counterparty on your company's standard template contract.
Comparison: Run a comparison against an interim draft on your company's standard template contract.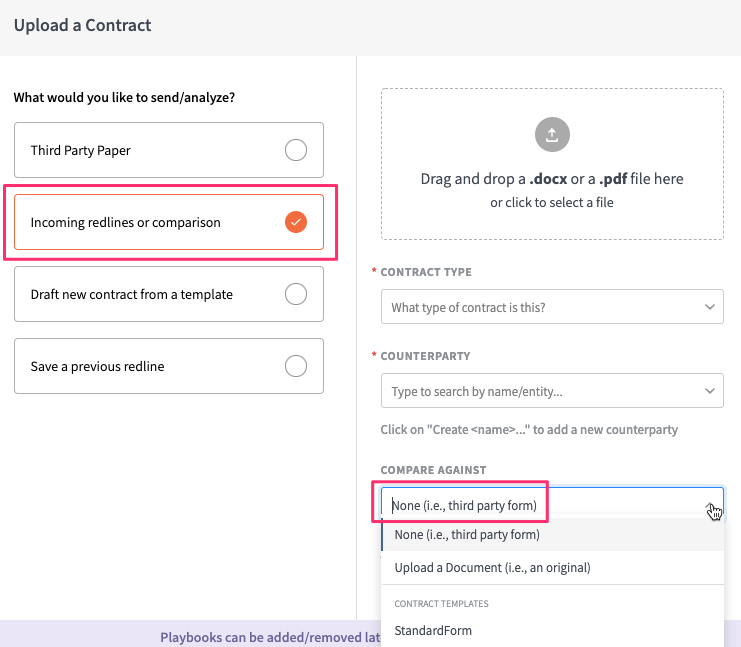 Under the COMPARE AGAINST dropdown menu, you can select one of three options:
None (i.e., third party form): Skip comparison. Review incoming redlines from the counterparty on your company's standard template contract.
Upload a Document (i.e., an original): Run a comparison against an interim draft or original document.
Contract Template: Run a comparison against your company's standard template contract. (Note: This option appears if you've uploaded templates into the Templates section of your Dashboard.)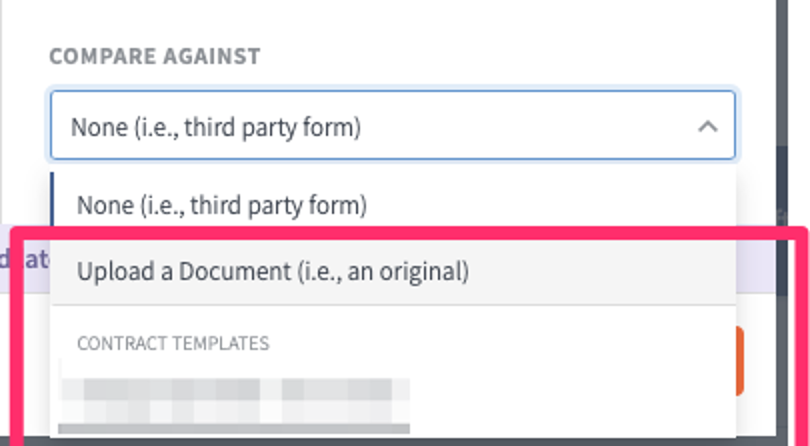 Save a previous redline
Select Save a previous redline to add to your collection of historical redlines.
Choose this option to:
Upload an example of your first-pass redlines on a third party paper;
OR
Upload an example of incoming redlines on your company's standard contract.
For more information on using previous redlines, click here.
Draft New Contract From a Template
You can create a new contract from an existing template with Draft new contract from a template. Now, when you Analyze a Contract, you can draft a brand-new contract from one of your existing Templates located in the Templates tab of the Dashboard.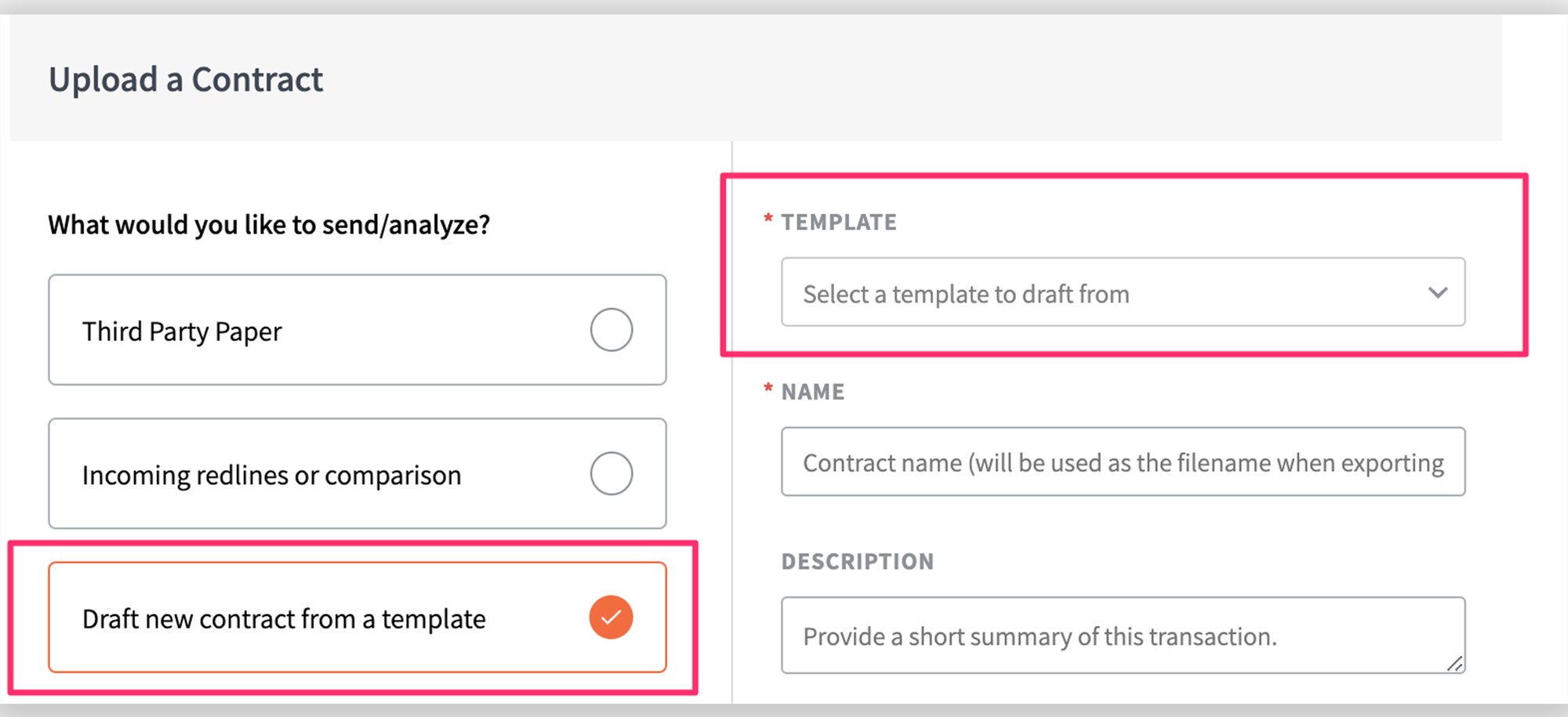 Note: you can also draft a contract from a template by clicking the Draft a Contract button to the right of any template listed in the Templates page.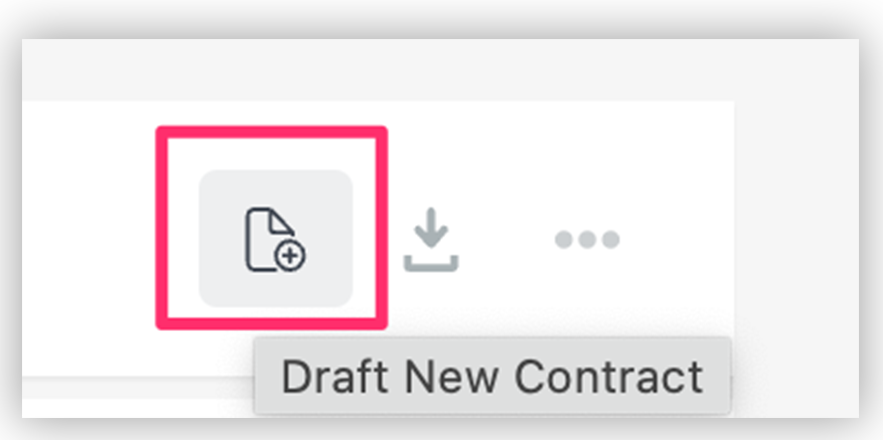 Dragging and Dropping a Contract
The first option is to upload a contract to the DocJuris tool. This can be either a .doc, .docx, or .pdf. In all cases, DocJuris will enable your team to edit and redline the contract. (Please note that the time required to upload a contract into DocJuris varies depending on the file format and size. For instance, if a PDF is uploaded, the DocJuris tool will then decrypt and upload the file which takes additional time.)
Selecting a Contract Type
Choose your Contract Type by typing the desired contract type within the field, and then select it from the dropdown menu.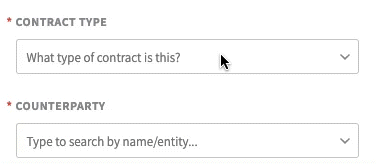 Note: Contract Types are predefined in DocJuris (you can view the entire Contract Types list here). However, if a Contract Type needs to be customized, please contact support@docjuris.com.
Adding a Counterparty
Counterparties reference the opposing side of contract negotiations. Contract Lists and Previous Redlines can be filtered and sorted by Counterparty information, which can be helpful.
New Counterparties can be added by typing the name of the new counterparty within the field, then pressing Enter.

Unlike Contract Types, Counterparties can be added to DocJuris by a User without assistance from DocJuris support.
Advanced Drop-down Menu
Next, you can choose an Advanced option from the Advanced drop-down. By default, these advanced options are hidden. Click the arrow on the right to view the Advanced Option toggles.

Both Advanced options have different functions for the new turn being uploaded. These toggles allow you to combine contract drafts in DocJuris in order to save time. A brief explanation is below.
Skip comparison with the current turn:
Loads the next turn without comparing it against the current turn. For example, if the next turn is a completely different document with a different set of track changes, DocJuris will load it without considering what's in the current turn before it.

Here's why you might use it:
I want to upload an updated doc that went through a lot of iteration, and running a comparison is not necessary.
I trust the drafter and want to see the updated markups from their Word docx. Maybe we had a call and went through it - so I don't need to show the differences from the last draft since we walked through it all together separately.
I need to work off a new draft and discard the previous turn (many reasons why this might occur)
In summary, by skipping, you're not checking to see what's different between the last turn and the one being uploaded.
Note: When Skip comparison is selected, you can choose either Counterparty or Other under Who Is This Turn From? This is so you can receive and work on contract edits from your own team, department, or organization, in addition to working on edits from a Counterparty.
Continue any detected track changes/redlines as your edits:
Takes any track changes or redlines from the doc being uploaded and treats them as your edits for purposes of continuing your draft. If you decide not to skip the comparison, the app will also show any hidden changes or differences from the previous turn or original as your edits as well.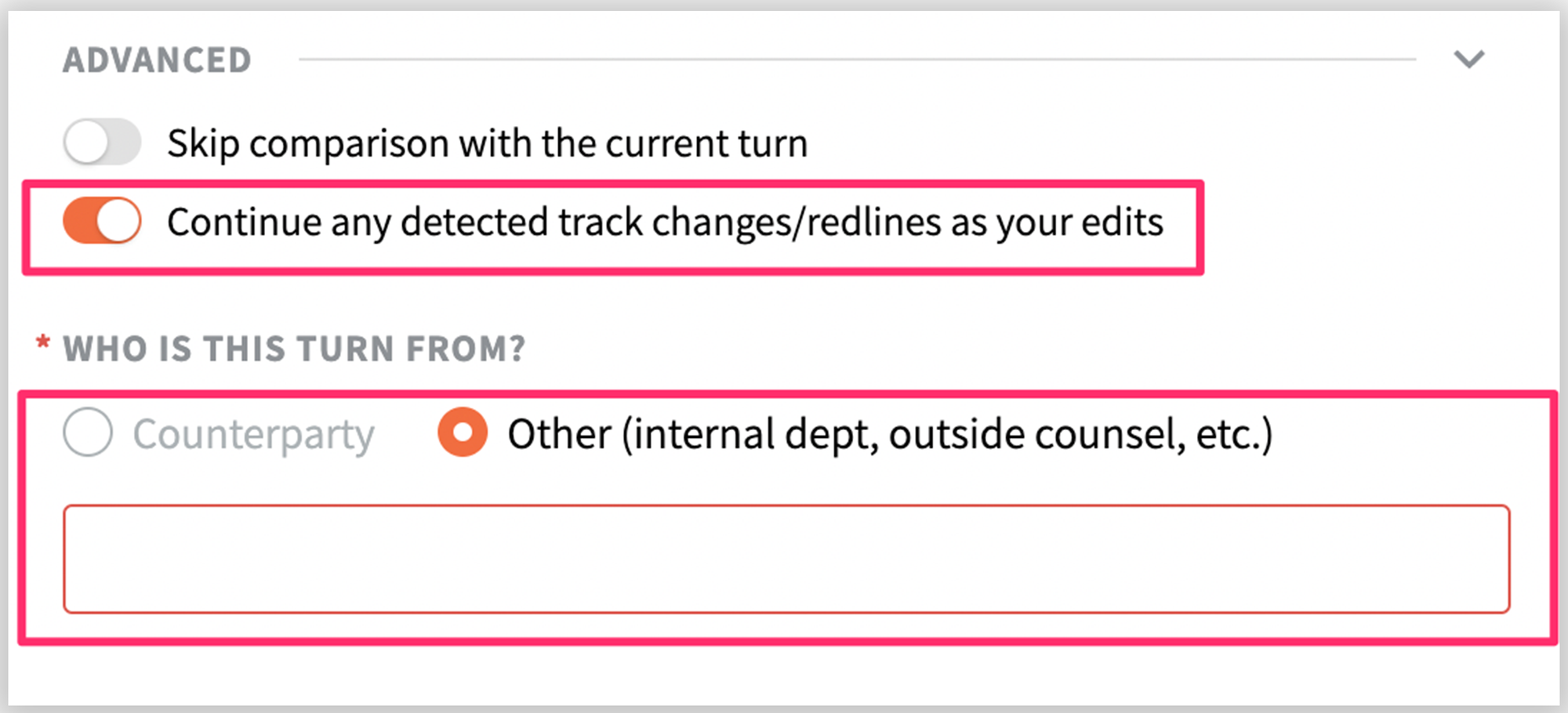 Note: When Continue any detected track changes/redlines is selected, or when both Advanced options are selected, you can only choose Other under Who Is This Turn From? This is so you can focus on making edits in your own team or organization.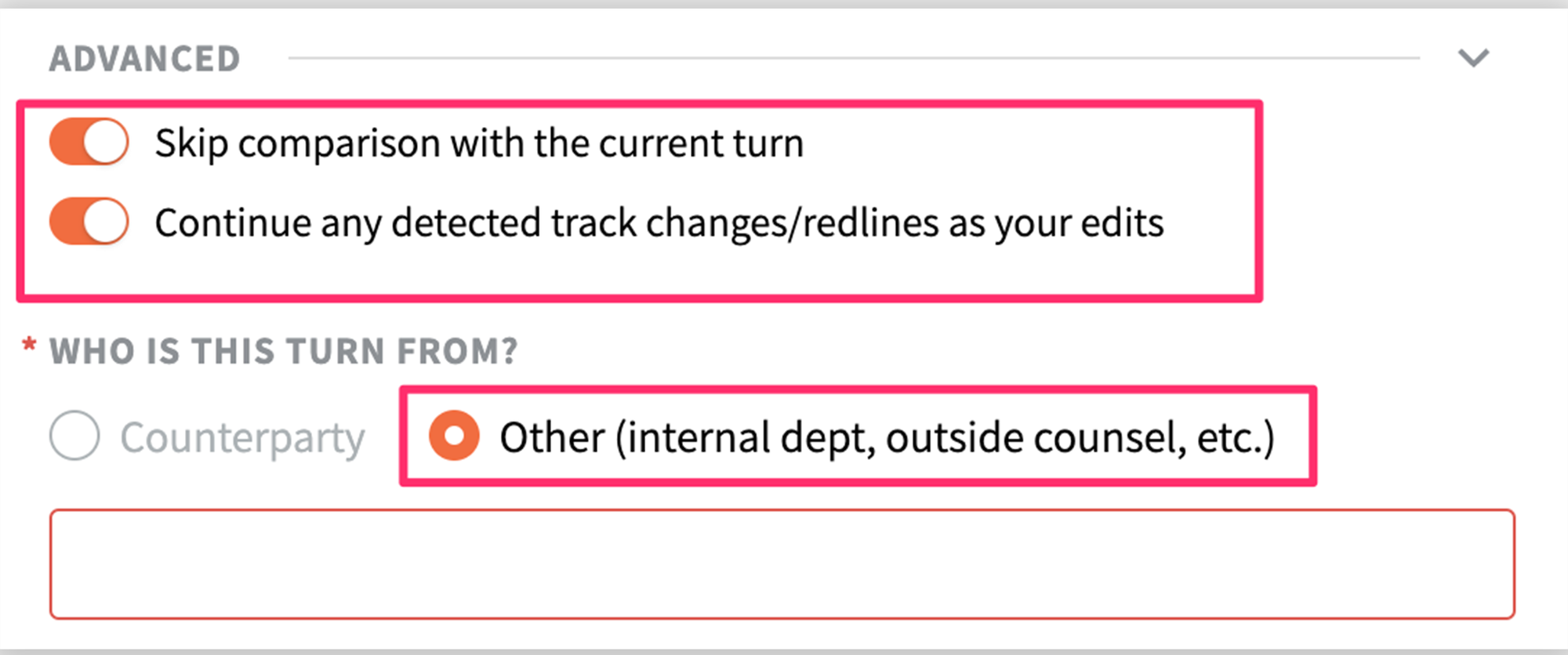 With these Advanced options to upload a new turn of a contract, you can continue your draft in DocJuris from where you might have left off in a Word document or other program. You can incorporate new versions or changes from a word processing file, export your edits or an amendment, and complete existing drafts all within the app.
Video Overview